In response to the slump in the global pandemic's aviation industry, China Airlines' in-flight meal provider China Pacific Catering Services and the France-based supermarket chain Carrefour have partnered to debut an inflight meal-inspired frozen food line in Taiwan.
China Pacific Catering Services (CPCS), the largest airline catering provider in Taiwan and currently employs about 900 workers, comes up with this solution to ease employees' financial concerns.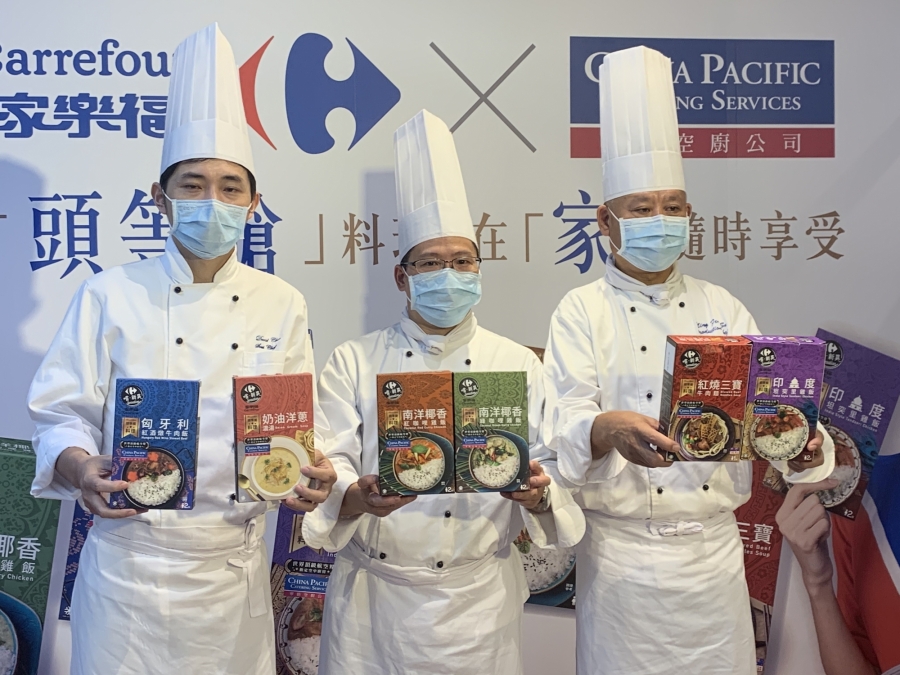 Six dishes such as onion cream soup, stewed beef noodles soup, and coconut green curry chicken with rice were selected from China Airlines' first-class meals and airport VIP lounge. They cost between NT$119 and NT$199 and are available in Carrefour supermarkets, convenience stores, and online platforms in the territory.
Although CBCS is no stranger to producing frozen meals as all in-flight meals are pre-cooked and preserved in a freezer before the flight attendants reheating and serving the food to customers, the catering company faced a new challenge. Since it is a collaboration with Carrefour, the ingredients of the meals have to pass Carrefour's standard as well, which is based on the European Union's food addictive guidelines. After reviewing the guideline, CBCS had removed additives, color pigments, palm oil in the frozen meals.
The catering company sets a goal for its non-flight meal business to take up 30% of its total revenue in the future. It also hopes to expand its partnership with Carrefour. By the end of the year, they will launch frozen meals based on new year dishes and baked desserts.
China Pacific Catering Services is not the only airline catering company in Taiwan that is pivoting to sell in-flight meals on the ground. In early October, Eva Air's catering company Evergreen Sky Catering Corporation partnered with Family Mart to offer 10,000 freezer-friendly versions of beef noodles that are usually served in its business class and VIP lounge. However, their pricing is higher than CPCS'.
Globally, according to Globetrender, Thai Airways is the first airline that comes up with the idea of turning the in-flight menu into standalone products. The airline began selling a meal box containing an entree and dessert in April. Since then, the airline has also tried various new business models, such as opening a plane-themed restaurant and selling street food to curb its financial losses.
Headquartered in Taoyuan City, China Pacific Catering Services used to offer in-flight meals to 32 airlines. At its best, it produced 50,000 meals per day. However, since the COVID-19, the demand has fallen drastically. At the beginning of the pandemic, there was a time when the company produced less than 500 meals for the entire day. Even though the economy is bouncing back in recent months, it produces only about 2,000 meals per day on average.
In addition to the partnership, the catering company upgraded its food ordering website and granted access to the general public for purchasing discounted food and ingredients.