In the face of the ever-changing market environment, fighting alone has limited effectiveness. We can only achieve excellence by working together, but who should we work with? How can we speed up the transformation process? It is recommended to proceed from two aspects: The first step is to confirm the direction of transformation, and the second step is to create an exclusive flying wheel of transformation through the innovative model of Corporate Startup Engagement (CSE).
6 major industry clusters are actively transforming into smart enterprises.
According to the 2019 Global Competitiveness Report released by the World Economic Forum, Taiwan is ranked 12th in the world, with the industrial cluster development index ranking third in the world. The reason for this is due to the government's promotion of the central satellite factory system in 1984. A sound upstream, midstream and downstream industrial chain not only makes "Made in Taiwan" products proud of their global standing, but also provides flexible and diverse OEM services of excellent quality. These are the key building blocks that have made Taiwan's industries famous internationally. However, with changes in the market environment, the industrial cluster synergy of Taiwan's manufacturing industry is gradually disappearing. Only by actively transforming and joining hands with external partners will we have the opportunity to shine again on the international stage.
From the current enterprise layout, we can clearly see that the six major industries such as information and communications, semiconductors, machine tools, bicycles, automobiles and screws and nuts are more receptive to digital technology in their clusters. They are more willing and quicker to embark on the digital transformation, and are committed to deepening their enterprise footprint in areas such as intellectualization and greening.
In terms of ICT clusters, with the iterative innovation of ICT technology, Taiwan's electronics foundries are actively accelerating innovation and change through smart factories, AIoT applications and the 5G ecosystem. For example, Wistron has implemented AI inspection in its factories in Taiwan and China to improve the efficiency of product yield rate inspection and at the same time, to identify the correctness of employees' assembly actions.

The semiconductor clusters are actively transforming themselves by taking the lead in deploying emerging technologies such as AI, 5G and self-driving cars, leading to smart manufacturing and smart factories, as well as expanding the deployment of semiconductor equipment and materials. For example, TSMC uses artificial intelligence and machine learning to build an intelligent manufacturing production model that is more agile and flexible in response to new and emerging intelligent product needs.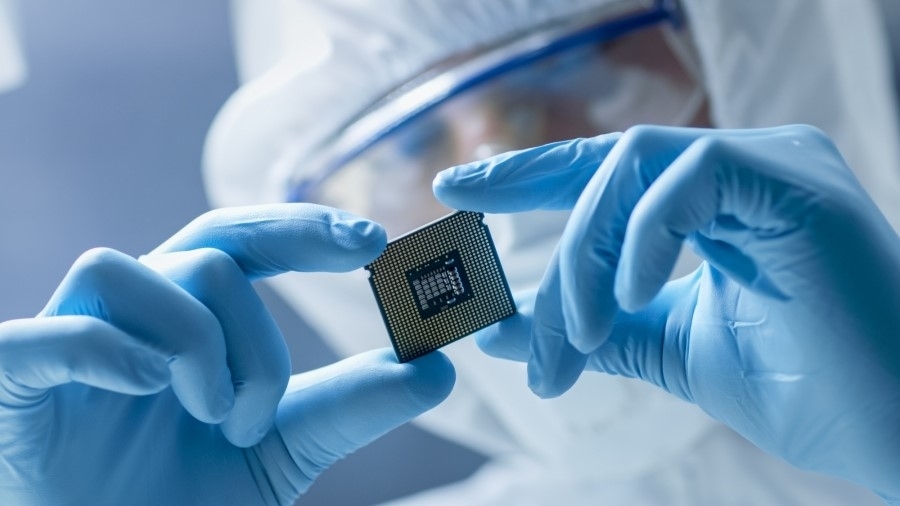 The machine tool industry cluster (ranked as the world's fifth largest exporter) has deepened its performance in value-added services such as intelligent machinery equipment, intelligent production lines and intelligent manufacturing through digital transformation in order to enhance its voice on the world stage. For example, Fair Friend Enterprise Co., Ltd. established its Smart Manufacturing Business Division in 2016 to provide a one-stop solution.

The bicycle industry cluster is to promote innovation in the global bicycle industry through three ways: developing green and eco-friendly e-bikes, building sports, fitness and community entertainment, and developing shared platforms and smart services. For example, Giant Manufacturing (Giant), which markets itself globally under the Giant brand, launched the RideLife cycling community platform and linked the Giant Biker App to create a new healthy exercise community.

The digital transformation of automobile industry clusters focuses on the development of green and environmentally friendly electric vehicles, smart networked vehicles, and the construction of shared platforms and mobile services in order to shape the new landscape of future mobility. For example, bullish on the trend of Mobility as a Service (Mass) and sharing platforms, in addition to launching iRent, a self-service car rental service, which allows consumers to rent cars and motorcycles based on demand, Taiwan's Hotai Group further thinks from the consumer's standpoint and provides a "mobile store" service for picking up and returning cars at designated locations.

Taiwan's screw and nut industry cluster, which enjoys the reputation of the kingdom of screws, is actively transforming and upgrading through digital technology. Specific measures include the development of automated production, digitization of process parameters, strengthening of engineering safety and implementation of functional training, as well as the deployment of high-value application markets such as automotive, aerospace and medical materials. For example, Hung Chun Bio-S Tech has transformed from a screw factory into a manufacturer of artificial dental materials and has successfully expanded its business into Eastern Europe, Southeast Asia and Japan.
In the process of actively transforming into a smart enterprise, in addition to strengthening the R&D mechanism to enhance competitiveness, Taiwan's manufacturing industry is also rapidly expanding its innovative service capabilities through strategic joint ventures, acquisitions and mergers. But that's not enough. To further enhance market responsiveness, many companies are deepening their collaboration with startups through the innovative Corporate-Startup Engagement (CSE) model in order to accelerate the pace of the digital transition.
The Secret to Reinventing Taiwan's Industrial Clusters for the Future: Five CSE Models Create Four New Direction & One Responsibility
What are the ways in which companies can participate in CSE innovation practices? Based on the level of risk, these can be grouped into five broad categories:
The first is "sponsoring an event or space" that links and interacts with the startup team through hackathons, startup competitions, sponsoring startup fairs, or providing a co-creation space. The second is to provide startup coaching through an "accelerator", and the 3-6 month course assists startup teams with existing product prototypes to optimize product services, expand sales channels, build networks and raise capital, and shape a mature business model. Then there's "co-creating or starting a business" with the startup team, which opens up new markets by complementing each other's strengths. It is of course possible to acquire shares quickly by setting up a "venture capital fund or investing in startup team capital".
Lastly, "mergers or acquisitions" will expand the investment project from capital to resources such as technology, markets and channels, and then expand the ecosystem of the industry.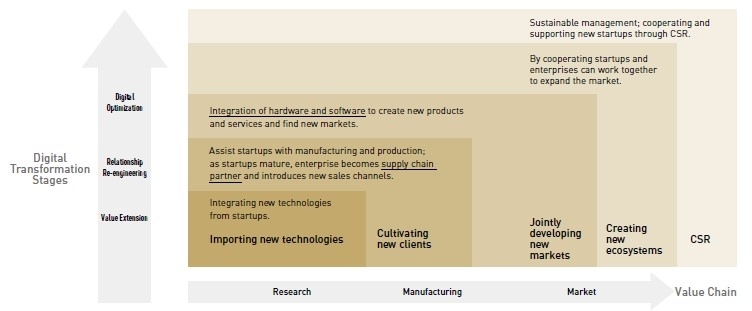 Taiwan's manufacturing industry's enthusiasm for the CSE innovation model is due to four factors:
The first is the introduction of new technologies, i.e. the integration of the technologies of the startup team to increase the R&D capacity and optimize the digital capabilities. For example, Himax Technologies has integrated its own 3D sensing solution with the face recognition algorithms of Kneron (a start-up) to develop a 3D AI solution for the security industry. The second is to generate new customers, i.e. to establish a partnership by helping startups to manufacture. Once the startup has grown and established itself, the startup becomes a direct supply chain partner, bringing in new orders for the business. And then there's exploring new markets together. The specific approach is to integrate the advantages of hardware manufacturing and software services for startups, and to expand the new intelligent application market through the integration of hardware and software. For example, Qisda, together with LaFresh, provides a smart food and beverage solution that integrates software and hardware. Lastly, it is about building a new ecosystem and inviting cross-domain partners to create and grow the ecosystem by acting in groups.
It is worth noting that in order to ensure the viability and integrity of the CSE ecosystem, Taiwan's manufacturing industry should uphold its corporate social responsibility by working with startup teams to develop markets and providing services that contribute to society and make CSE activities more meaningful.
Three Secrets to a Better Future
It's baffling that so many companies are stepping up to the plate to accelerate their innovation and transformation through the innovation model of Corporate Startup Engagement (CSE). But why the huge difference in results? What should be done to maximize the benefits? After reviewing the practical cases of domestic and foreign enterprises, three aspects can be summarized as follows:
The first is to identify the target. Whether it's working with new partners to optimize R&D, manufacturing, and market energy, or accelerating the pace of digital transformation, goals need to be clearly defined so that strategies and actions can be developed to deepen the energy of innovation and accelerate the pace of transformation in a more open, equitable, and systematic way.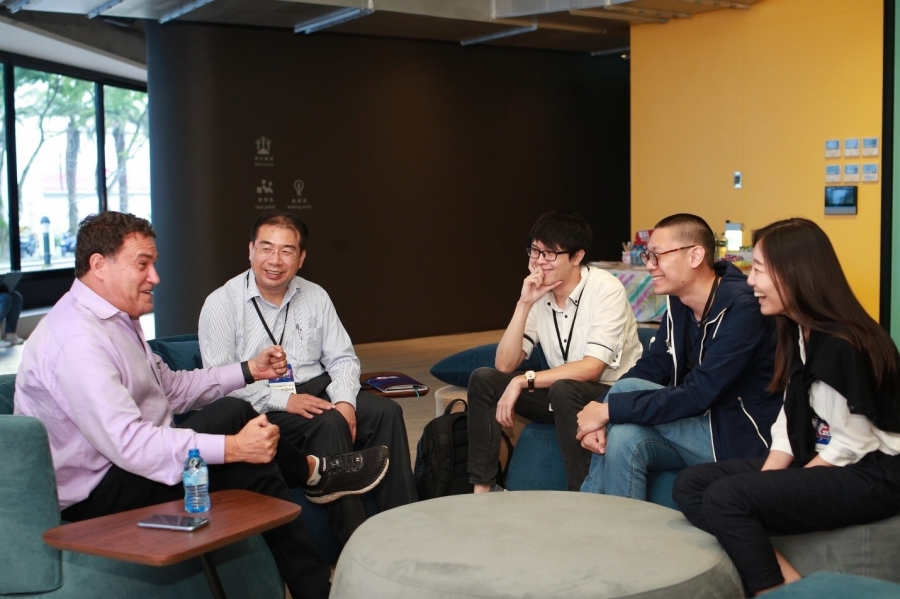 The second is to change your mindset. As companies and startup partners come from different backgrounds, they think differently and have different strengths. For example, companies own the field, channels, contacts, supply chains and other resources, while startup partners own new technologies and products. After deciding to cooperate, both sides should be open and willing to try, giving each other more space and flexibility in terms of system, technology, marketing, sales, etc. to avoid excessive intervention or assimilation.
Finally, an open and equal interactive model is established to shape a new industrial ecosystem. Although companies and startup partners are different in terms of size and industry identity, they need to establish an equal and mutually beneficial relationship. Therefore, regardless of the form of cooperation, there should be communication, coordination, respect, trust, and empathy, as well as funding and resource support to maximize the benefits of complementarity or additionality between the two parties.
[Sponsored by MOEA/SMEA]