Taiwan's largest e-commerce group, PChome Online, announces the PChomeSEA cross-border e-commerce service for Southeast Asian (SEA) markets. The alliances with leading local SEA e-commerce platforms, including Tiki in Vietnam, Qoo10 in Singapore, Blibli in Indonesia, and Youbeli in Malaysia, enable more consumers in the SEA markets to easily purchase massive Taiwanese products with excellent quality at affordable prices.
Taiwanese products have been well-known for "high quality, attractive price." "The SEA e-commerce market has been thriving in recent years, and consumers are entitled to more diverse choices of products," said Chairman Jan Hung-tze of PChome Online. "Taiwanese companies have great reputations. Taiwanese products have great quality at highly competitive prices. This time, we are delighted to forge alliances with leading local e-commerce brands in SEA countries, enabling SEA consumers to purchase massive-quality Taiwanese products easily. This alliance between PChomeSEA and SEA partners will boost the visibility of Taiwanese products, further differentiate our partners in respective local markets, and create a mutually-benefiting SEA e-commerce ecology."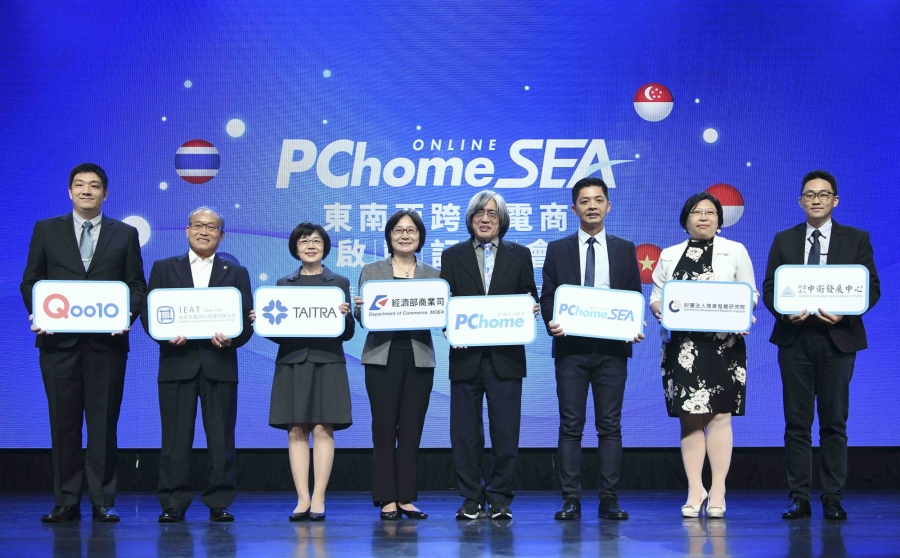 With 20 years of e-commerce experience, PChome is the largest e-commerce group in Taiwan, with over 2 million stock merchandise. Targeting the SEA markets, PChome has launched the PChomeSEA cross-border service, calling for more Taiwan's fine products and quality companies recognized by Taiwan Excellence Award and MIT Smile Mark to come on board. Thus gives PChome the most excellent competence in Taiwanese quality merchandise. "Like PChome, our partners in SEA are all local e-commerce enterprises that are leaders in respective markets, and have tremendous competence on local consumers and market situations," said Managing Director Sam Tsai of PChomeSEA. "We will launch the PChomeSEA section on our partner platforms, including Tiki, Qoo10, Blibli, and Youbeli, to offer a wide range of Taiwanese products at high quality, affordable price, and great value. For SEA consumers to enjoy quality cross-border shopping experience from Taiwan."
"Cooperating with PChomeSEA is the right move to make," said General Manager Sam Too of Singapore's Qoo10. "This collaboration will bring us wider and more internationalized choices. Singaporean consumers cannot only find their desired products but also get them faster within a more reasonable time. From the business point of view, this is essentially linking the two markets together. This alliance is an opportunity for the two companies to build a tighter partnership."
"We are very excited about this collaboration. Both companies share the same beliefs regarding customer satisfaction, fast delivery, and product authenticity, offering local Vietnamese consumers a wide range of quality products from Taiwan. I believe this will be more than just a win-win partnership!" pointed out Tran Ngoc Thai Son, founder of Vietnam's Tiki.
"Blibli believes the synergy of its cooperation with PChomeSEA will strengthen both companies' position in the e-commerce market. PChomeSEA can enter the Indonesian e-commerce market that grows over 40% annually via Blibli, and the many quality Taiwanese products will satisfy the needs of Indonesian consumers. We look forward to working with PChomeSEA, and jointly fulfilling our commitment to customer satisfaction," said CCO Robert Luo of Indonesia's Blibli.
"We are happy to cooperate with PChomeSEA," said CEO Chua Khai Suan of Malaysia's Youbeli. "There are 7 million Chinese-Malaysians, and we also have many Malaysian students coming home after studying abroad in Taiwan. Compared to merchandise from other countries, Malaysian consumers have great confidence in Taiwanese products' quality and materials."
PChome has proactively explored overseas markets in recent years. The introduction of PChomeSEA cross-border service for the market is not just a new milestone in PChome Online's SEA deployment. It's also gathering all parties' strengths to practically resolve many Taiwanese companies' pain points in the SEA markets. Thus will help Taiwanese products gain greater international exposure and create a mutually beneficial cross-border e-commerce ecosystem in SEA.