Ever since 2011, when the first few local crowdfunding platforms like Flying V and zeczec were launched, crowdfunding has become one of the most popular means to raise funds for creative and innovative ideas in Taiwan.
Taiwanese crowdfunding news site CrowdWatch publishes a report about Taiwan's crowdfunding ecosystem every year. In the 2019 report, it points out that over 900 local crowdfunding campaigns hit their funding goals and raised more than NT$1.6B ($55.5M) in total last year -- twice the amount for 2018.
In 2019, the 20 most-backed projects are backed by 9,511 people and the 20 most-funded projects receive NT$24M ($800k) on average. Both figures have seen a 50% growth over a year.
Since 2017, the number of projects that make it to raise more than NT$10M ($330k) doubles every year. In 2019, there are at least 35 such cases, including POIEMA Fit (created by POIEMA), an air purifier for home that raises a whopping NT$134M ($4.4M) on flying V and makes the most-funded product ever in Taiwan. The same company has also raised around $1M for its car air purifier in 2018.
Recent years have also seen an increasing number of Taiwanese startups launching their products on US-based Indiegogo (such as personal air purifier Luft Cube), Japan-based Makuake (such as AI-powered coffee machine iDrip), and other overseas crowdfunding sites.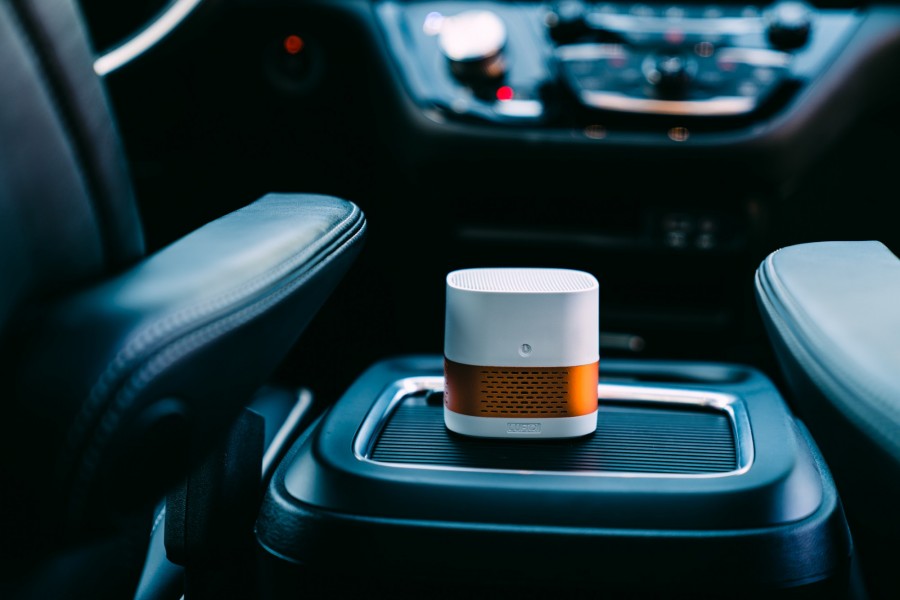 On local crowdfunding platforms, everyday consumer products -- such as bluetooth earbuds (created by XROUND), smart baby monitor (created by Cubo AI) and AI-powered, portable instant voice translation device -- are the most popular among backers. Eco-friendly products like reusable water bottle and straw for bubble tea have also seen increasing popularity as consumers are going greener to stop producing plastic waste; it can be linked to the ban on single-use straws that went into effect last year, too.
There are other crowdfunding products that attract numerous backers for how they address a real-life issue:
Qbi magnetic toy blocks
Why are kids bored of toys so quickly? Qbi, believing it's because they don't have playmates sometimes, creates a modular set of magnetic toy blocks to encourage children to have fun with their parents and at the same time develop logical and creative thinking skills. The company is confident that the toy not only is safe to kids but provides much better experience than others that are more affordable yet less interesting to play with.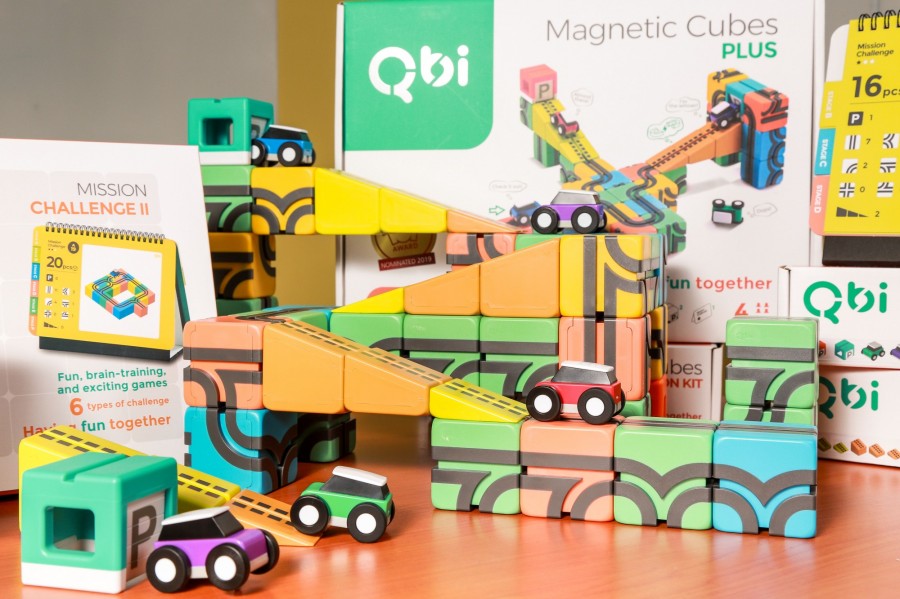 Kids should put together a number of blocks to form various tracks for a little car to run through. With parents or peers, they can work together to build a track and battle with each other. Also, they can follow the instructions on the game cards that come with the set to build tracks of various levels of complexity.
The product was first launched on Indiegogo in 2018 and later on Taiwanese crowdfunding platform zeczec. Last year, it has been nominated for the Spielwarenmesse Toy Awards in Nuremberg, Germany. Over two thousand sets have been sold so far across the globe.
e+ Autoff
If you sometimes forget to turn off the gas oven, or doubt if you've done so before going out, you might need the product developed by YZTek. Named e+ Autoff, it's a small gadget to be installed on the knob that turns off the stove automatically in case of emergency. It also works as a timer that beeps when it's time to turn off the stove.
One month before the battery dies, a warning light on the gadget will be switched on. If the battery continues to drain, the knob will eventually be jammed, which forces users to change the battery before they can turn on the stove again.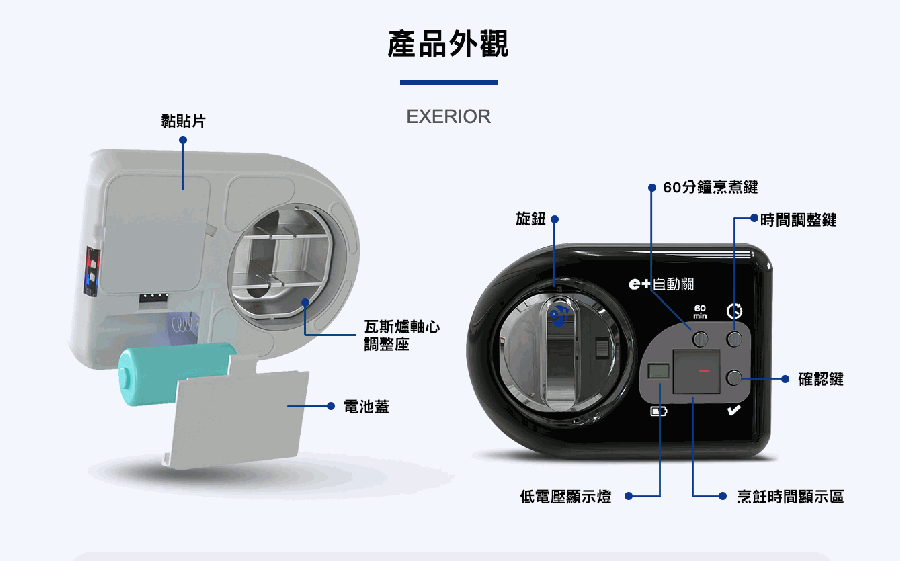 e+ Autoff, according to YZTek, is more affordable than a smart stove and more reliable than a timer or smoke detector because it turns off the stove before it's too late. So far, over 60k gadgets have been sold and the company said it expects to turn it into an IoT device for smart home.
BRISE C360
Does air pollution make your allergies worse? BriseCare's latest product called BRISE C360 uses AI to monitor air quality, finds out where the pollutants, and purifies the air efficiently. It not only removes particulate matters (in different sizes like smoke, dust, and pollen) but also traps and kills a wide variety of bacteria and viruses (like flu, H1N1, enterovirus, norovirus, and MERS). Consumers can choose by what standard the device cleans the air; for example, in Taiwan, the air quality is considered satisfactory when the air quality index (AQI) is below 15.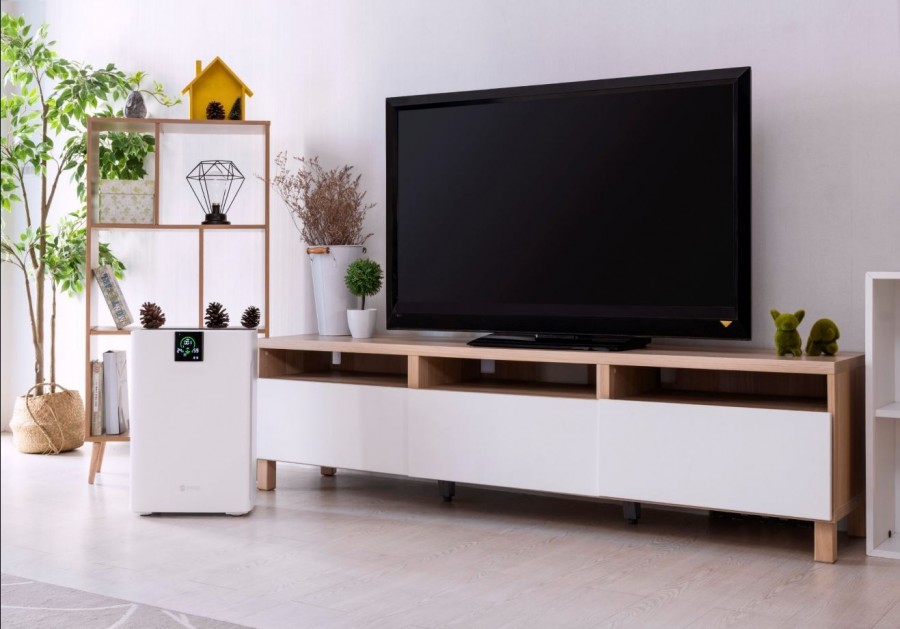 The product features a special night care mode, which allows consumers to turn on the machine without worrying about being disturbed by noises during sleep. Parents can also make sure their kids sleep well while enjoying good air quality. Most importantly, the device still runs effectively in this mode, removing pollutants and killing bacteria with photocatalyst, unlike other air purifiers that operate at low speed at night.
Since 2017, the company has sold more than 14,000 devices to 7,000 families and hospitals. It plans to develop an app for personal health management for people with allergies and later an ecosystem around precision health.
Diversity in crowdfunding
Besides consumer products, crowdfunding campaigns are launched for multiple films (like The Last Thieves, which explores how blockchain technology reshapes world order), artifacts, and even font design. Independent art projects like The Great Tipsy, an immersive theater show created by Surprise Lab, and an exhibition space for the works of Chi Po-lin, a Taiwanese documentary filmmaker who died in a helicopter crash, are not only eye-catching but well-funded as well.

Meanwhile, social movements are funded across local platforms, including a days-long protest against rising housing prices. Notably, a series of crowdfunding campaigns that aim to raise awareness for LGBT rights raised a total of $NT36M ($1.2M) within three years, before Taiwan officially became the first Asian country to legalize same-sex marriage last year.
Late in 2019, civil organizations also used crowdfunding to raise the money needed to rent a fleet of buses and send university students who study in cities back home to vote in the 2020 presidential election.
The large amount of money flowing into crowdfunding projects have turned countless dreams into reality in Taiwan. As the oldest and most popular crowdfunding sites celebrate their 10-year anniversary, more and more backers are expected to connect with those who share the same values through crowdfunding and make a step together towards a better future.