This week, SparkLabs Taipei has revealed its third batch of startups on demo day. One after another, they went on to pitch their solutions to an audience of potential investors and business partners.
This batch includes a total of eight startups across verticals like AI, e-commerce, enterprise communications, healthcare, HRtech, IoT, VR, and so on.
Launched in 2018, SparkLabs Taipei is one of the accelerators that the Silicon Valley-based SparkLabs Group operates around Asia. It offers mentor-driven program and a $40k investment to help early-stage startups scale up and go global.
The accelerator is the first institutional investor for nine out of the 18 startups it has invested in, said managing partner Edgar Chiu. Over 70% of these companies later receives follow-on funding from investors like Taiwan's National Development Fund, 500 Startups, Japan's NEC Capital Solutions, and Hive Ventures. SparkLabs Taipei has so far participated in 79% of these follow-on rounds.
Its portfolio includes IoT startup FOX-TECH, beauty and cosmetics company VesCir, and instant booking platform FunNow, all of which have been building global presence.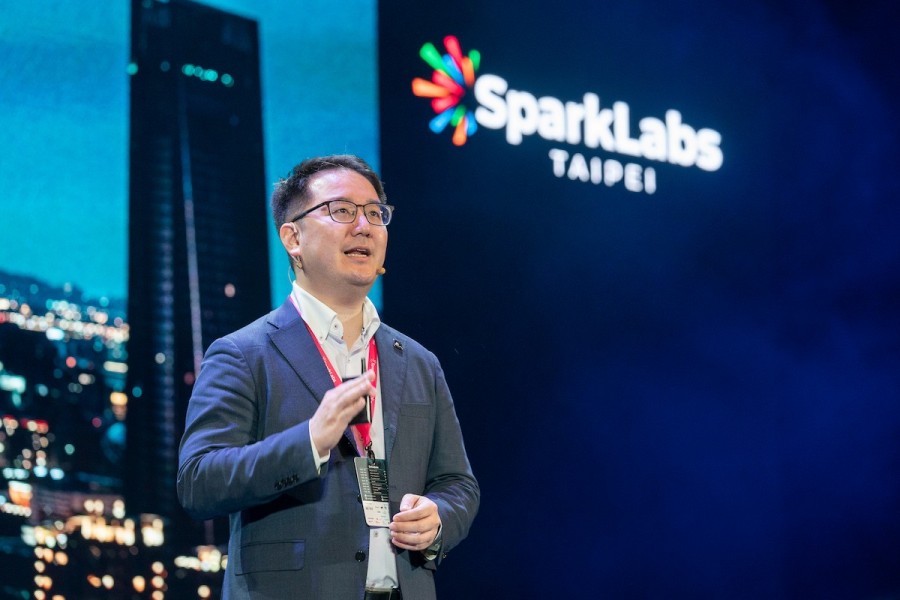 "SparkLabs Taipei encourages entrepreneurs to target the international market from day one," said Mr. Chiu. "That's the mindset entrepreneurs in Taiwan must have."
Steven Chen, Youtube co-founder who has joined the accelerator months earlier as venture partner and advisor, said he has met many Taiwanese entrepreneurs who are hesitant about going global. "They often say: 'I will wait until I have more traction and resources before I can expand into the international market,' but crossing borders into new markets is actually not as expensive or difficult as one may think."
Mr. Chen has once encouraged Taiwanese founders to "always think outside of the 23 million people in Taiwan."
Meet the startups
iDrip:
Founded in 2018, iDrip is an IoT coffee maker with a coffee device capable of replicating how world champion baristas make coffee. The company has so far sold over 2,000 machines and partnered with Maserati, Audi, and Tsutaya Bookstore.
Terminal 1:
Founded in 2016, Terminal 1 develops a recruiting automation software that offers customized technical assessments to help companies hire engineers more efficiently. It now has offices in Taiwan and Hong Kong and have worked with clients such as Credit Suisse and HSBC.
Cocomelody:
Founded in 2016, Cocomelody develops a platform that offers omnichannel retail experience for brides to find an affordable wedding dress and receive a custom-made version within two months. Based in Taiwan, the brand has expanded into the US, Japan, and Austria over the past three years.
PenguinSmart:
Founded in 2015, PenguinSmart develops an online platform that offers effective speech and language rehab for children and empowers caregivers to become a key part of their journey. Headquartered in Taiwan, it serves Chinese-speaking families around the world.
MoBagel:
Founded in 2015, MoBagel offers an easy-to-use AI solution called Decanter AI that generates actionable insights for enterprises to make the right business decisions. The company serves clients in various sectors, including retail, manufacturing, banking, and telecom, and around the world, in the United States, Japan, China, and Taiwan.
FunTek:
Founded in 2013, FunTek provides an app-free chat solution called PinChat that enables enterprises to directly interact and engage with their customers by simply scanning a QR code. It has helped companies across various industries integrate the software with their own messaging system.
JustKitchen:
Founded in 2019, JustKitchen builds dark-kitchen infrastructure that serves restaurants and food delivery brands so that they can offer wide variety of cuisines to their customers at any time. By the end of this year, it plans to open 5 more kitchens and launch 7 delivery food brands.
VAR LIVE:
Founded in 2017, VAR LIVE creates VR games and an eSports machine called VAR BOX that has been installed around the world and attracted over 30,000 active users. It will soon take part in the construction of a large VR theme park in Canada.