Circular Economy Taiwan, an exhibition organized by Taiwan External Trade Development Council (TAITRA) to showcase cross-industry applications that serve to build circularity into current economies, took place last week, and during the same week, Anchor Taiwan, a platform that connects international entrepreneurs with Taiwan's startup ecosystem, invited two entrepreneurs, from Taiwan and the US, to come and share their innovative solutions to waste management.
As an opening, Elisa Chiu, founder of CEO of Anchor Taiwan, explained why her team decided to delve into the topic of circular economy by pointing out a widely unknown fact: the country has silently achieved one of the highest recycling rates in the world, where a meager 10 percent of the plastic waste is recycled. "We have a mature and robust recycling system," she stressed. "I think maybe it's something the world can learn from."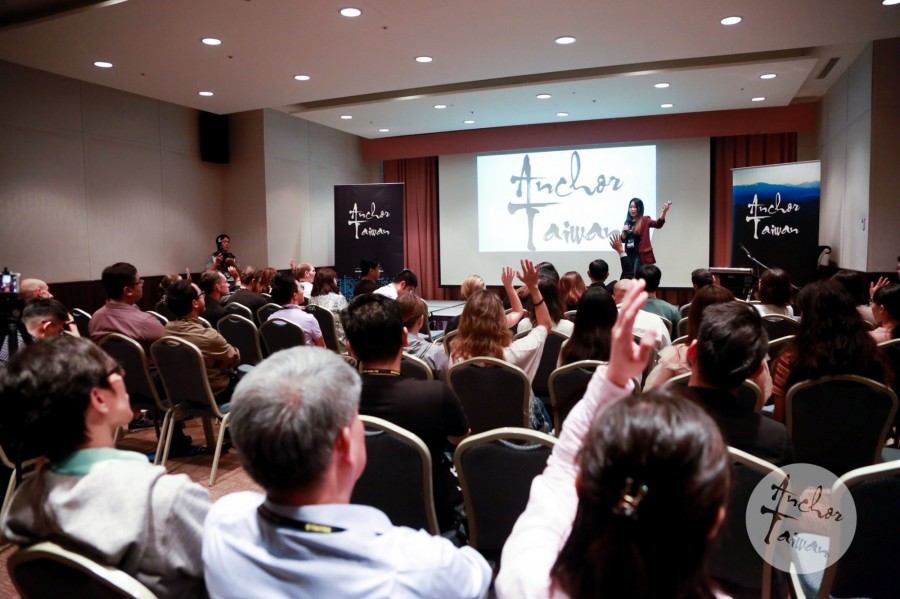 She added that Taiwan also features a group of "hidden champions" leading in niche markets like Pou Chen, the world's largest branded athletic and casual footwear manufacturer, that need stronger presence, hence the mission of her platform, "to bring the world to Taiwan through entrepreneurship."
Numerous companies in Taiwan are also looking for international talent with whom they can come up with technical solutions to existing pain points. "The biggest issues in the world need more cross-border and cross-disciplinary collaborations," she stated, and waste, the topic of the event, is one of them.
A trash can preventing contaminated waste
Charles Yhap, a serial social entrepreneur from Pittsburgh and the founder of CleanRobotics, has developed a robotic trash can to approach the worsening problem. "There are plenty of under-explored opportunities in waste tech," he said, encouraging would-be entrepreneurs to work on this area.
In fact, as he later pointed out, the size of global waste industry is $435B, and waste receptable market in the US alone is worth $12B, larger than the global market of wireless sensors, chipsets, and modules that most people think has a great potential.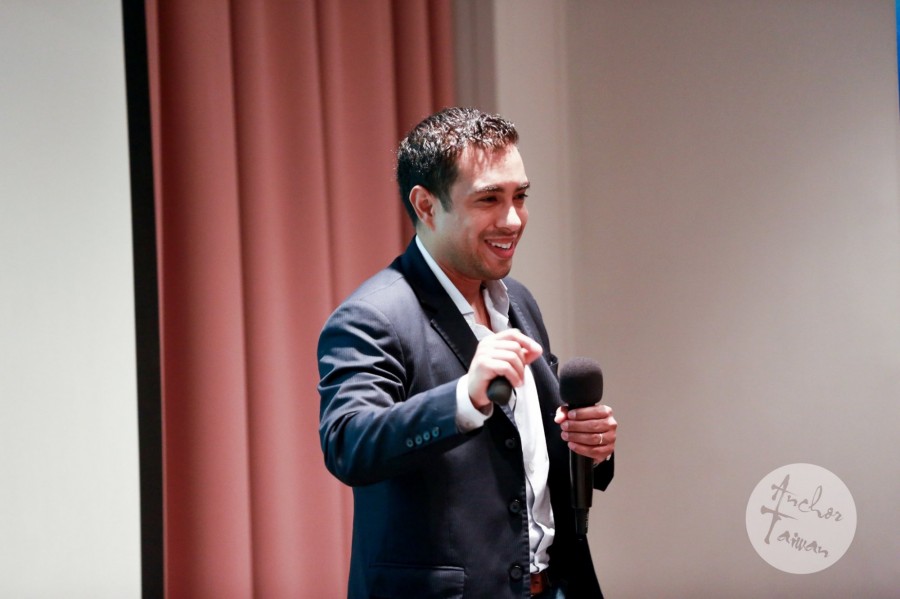 But what prompted Yhap and his team to create this product, called Trashbot, is the confusing experience of sorting out recyclables. He recalled the time when he needed to throw the trash after eating at Wholefoods. "I stand there trying to figure out where to put my waste and feel like a dummy," he described. "There's gotta be a better way to do this."
The majority of people are lousy recyclers, and their poor practices cause contamination. "You give them two bins, landfill and recycling, they make the right choice 30% of the time," Yhap laughed, though it's a 50/50 shot. Although, for example, there are attempts to clean up contaminated recyclables in the US, they're not successful either, and 80% of such waste still ends up in the landfill.
With AI, computer vision, and sensors, his Trashbot separates trash three times (90%) more accurately than human being, helping facilities like airports, stadiums, and universities sort recyclables from landfill waste. When the Trashbot is full, it changes color to signal its status and sends notification to an online dashboard and SMS to relevant personnel.
"These types of buildings (their facility customers) are facing a confluence of pressures," Yhap said, to recycle correctly, including zero waste goals, mounting landfill expenses, and the public hoping for more sustainability. "This trend is the world wants better recycling management."
Facility managers are therefore excited about this product, not only because of the costs it saves but the access to a large amount of data that wouldn't be possible before. "They can start making data-driven decisions," Yhap explained. "We are pulling the value not from commodities and the waste itself but from the insights that can be generated." For example, they can craft sustainability strategies based on them.
Meanwhile, for small business owners, they won't be fined by waste haulers for the contaminated waste their customers create. Trashbot enables a new layer of transparency that improves the B2B relationship.
Yhap said he believes the social good and profit model are "mutually reinforcing", and he can lead people to a better future with his smart bin. This is in line with the view of Gordon Yu, VP & CSO of EVP Technology.
A technology turning trash into fuel
To begin with, Yu pointed out the problem resulting from contaminated waste again, but he isn't fazed at all — because the system called R-ONE developed by his team can turn it into a better type of fuel, which not only costs the same as petroleum-based diesel but produces less emission. With higher combustion efficiency, it also increases horsepower for vehicles without generating black smoke.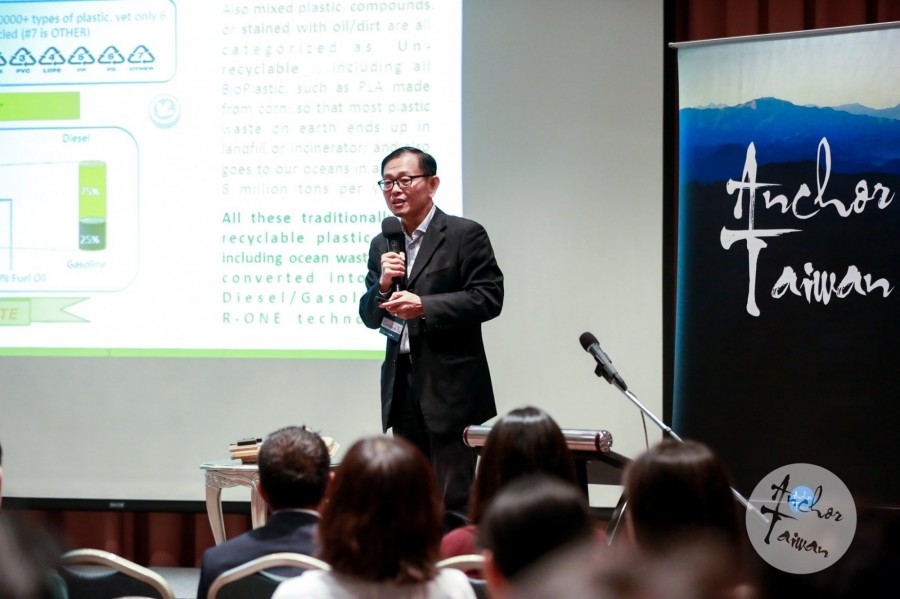 Yu's company, EVP technology, now processes over 25 tons of plastic waste every day and generates seven kiloliters of regenerative energy. It contains 10 ppm sulfur, much lower than the fuel used in ships (10,000 ppm). "We are making the air 1,000 times cleaner," he said.
In the system, 80% of the plastic waste can be converted into eco-friendly diesel for sale instead of being burnt in incinerator and generating dioxin while the rest serves as the fuel for the system to run without relying on external power supply. "The result is zero waste and zero emission," he stressed.
Meanwhile, "there's no need to do cleaning and sorting." Cleaning contaminated plastic materials can cause secondary pollution, and sorting is not only difficult to the majority but meaningless when plastics will be veritably recycled only if they're clean.
Despite waste segregation, all types of trash can still end up together in the landfill, he added. "It's difficult to reach sustainability without profit," he said.
EVP manages to strike a balance between the social good and profitability. Indeed, if Taiwan's government allows their "unconventional" oil to be branded and enter the diesel market, he believes they will be able to work closely with corporates like Formosa Plastics and CPC Corporation (the state-owned petroleum company) and no plastic waste will be seen in Taiwan anymore.
Taiwan has been promoting biodiesel since 2008. This type of fuel is sourced from low quality oil like used cooking oil, and has thus brought about numerous complaints a few years ago for causing flameout and clogging the tubes in the car engine. Biodiesel made from crops isn't better. Besides competing with food crops, it costs double the price of regular diesel because it's mainly imported.
If the policy is properly made, he believes their diesel should be the "best pathway to circular economy," in which waste is eliminated and resources are continually reused. Countries don't have to shy away from export waste anymore because it can all be turned into fuel by EVP's technology, including waste that flows from land into the ocean.
Embracing "blue economy," the company is now looking for opportunities to contribute to the world by helping other countries go plastic free.