Founded in 2017, Animguru is an online animation school that brings Pixar's expertise to Asia and passes it on to local animators.
Before launching the e-learning platform, the founder Ray Hsu had studied at the Academy of Art University in San Francisco to learn from top-notch professionals at the center of international animation industry. But after returning to Asia, whose animation market has been booming for the past few years, he realized the local teams still lags way behind.
He told Business Next that at his home university, students gain hands-on training and real-world industry expertise from Disney and Pixar. They're taught to produce personified and cartoonized characters with techniques applied in games, films, and commercial clips so that they can start working for top studios straight after graduation. The clearly defined career path, he observes, has created the talent pool necessary for the animation industry to thrive, especially during 2000-2010, the "golden age" when the US enjoys the greatest impact on the global entertainment landscape.
This doesn't mean the talent in Asia is outcompeted by that in the US, but without learning from and exchanging ideas with world-class teams, it's practically impossible to know how to work like them, Hsu added; hence the goal of Animguru: to build a community that allows Asian students to learn top technical skills that are desirable in the international market.
It is only after more than 3 years of persuasion and negotiation has Hsu built the current team of instructors and mentors. He believes that his experience of being inspired by animators across the globe can be replicated.
Now, Animguru have instructors from Pixar and Blizzard Entertainment guide their students online. The list includes Kevin Lan, Trevor Hsieh, Peter Starostin, Vince Lee, and so on. It's noteworthy that even student assignments are meticulously designed by them. In regard to this, Hsu said they hope to provide students with the best materials possible to "sharpen their eye."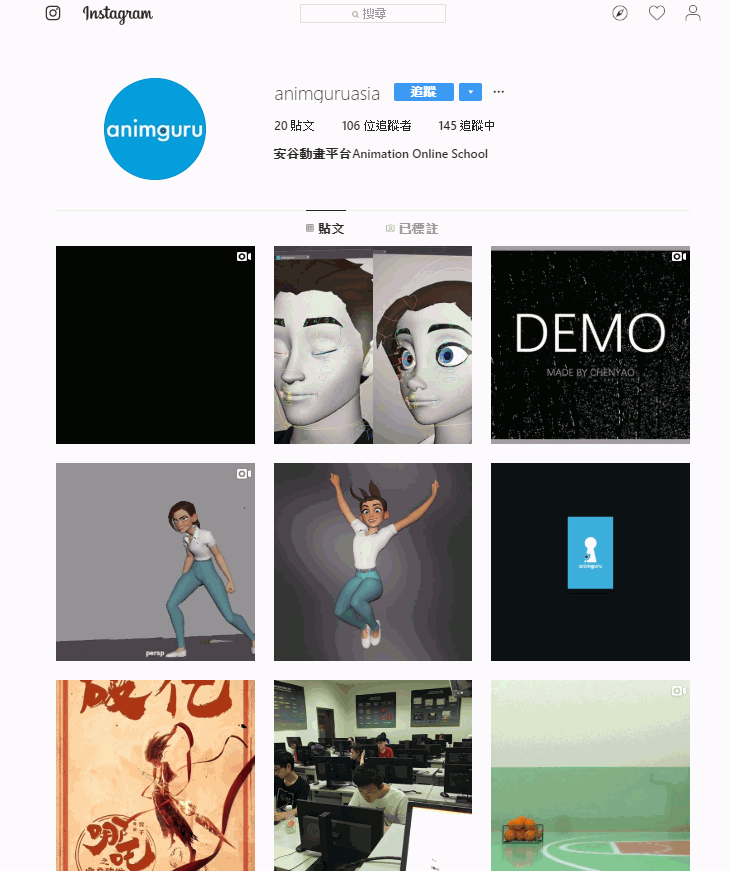 The school has courses categorized into six levels of difficulty. Whether having a work history in this industry or not, to ensure positive experience, students will be evaluated to put into different classes of twelve.
During 11 weeks, they work on a project using Maya, a 3D computer graphics application, and teachers, who create all the animated characters and do the modeling, give feedback in real time, Hsu stressed.
"I've always believed that a good work will be seen by investors and the government," he said. In recent years, Hsu has not only spotted a great number of students enroll in the courses but also felt investors' enthusiasm for animation art. Now, he matches production companies with university students on his platform, but he also hopes to initiate a change in the industry and envisions turning his company into a production company eventually.