"We will turn 'Owlting from Taiwan' into 'Owlting of the world'"! Profoundly thrilled, the founder and CEO Darren Wang announced his ambition on Facebook two years ago when the company's logo landed on Nasdaq's big screen overlooking Times Square.
It was one of the key milestones on Owlting's startup journey. Now, having secured $10M from the Japanese VC firm SBI, it expects to list on the Nasdaq in two years in the hope of becoming the first Taiwanese unicorn.
It has been operating globally through its branch offices around the world, in the USA, Japan, Malaysia, Sweden, and Thailand.
Meanwhile, in Taiwan, to bring global attention to the country, it has been supporting local startups that focus on the applications of blockchain as it implements this technology in the existing services.
How does Owlting end up here?
Owlting is quick to dive into new technologies and applications. Founded in 2010, it has launched a wide variety of services for businesses and individual customers, ranging from mobile commerce to unique travel experiences.
During the ten years, the team has taken substantial risk and met with plenty of obstacles. But Wang doesn't shy away from failure.
He said in the previous interview with Business Next that new services cannot be always profitable, but this doesn't mean they're meaningless. Instead, they can be a turning point in the long run.
Owlting Places, a social media platform for users to share photos and write reviews for places they've visited, is exactly a service of this type. With competitors like Facebook, it's difficult to monetize; however, instead of giving up on this service, Owlting gave a new life to this service:
Due to the 2014 food scandals, the concern over food safety has been mounting in Taiwan — so has the demand for produce from smallholder farmers, who are considered more trustworthy than large commercial farms. However, the supply seemed to have fallen way behind, though these farmers are capable of meeting such demand.
The phenomenon, Wang and COO Will Liu found after paying a visit to the countryside, results from the lack of marketing strategies — the farmers rely solely on a Facebook fan page to advertise their products.
To solve this pain point, the company launched two services, Taiwan milk map and fruit map, both of which integrate the maps on Owlting Places into the new platform Owlting Market, where farmers open their shops and reach customers around the world.
Through these services, customers can skip intermediate traders and purchase different fruits and diary products directly from farmers and ranchers.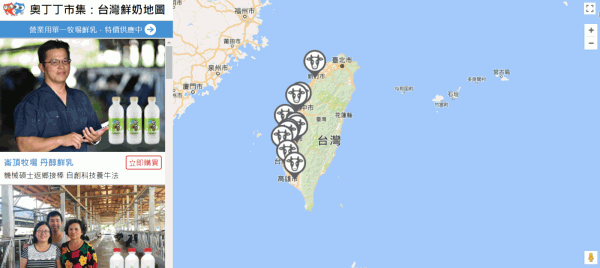 The success of Owlting Market also inspires the team to expand into travel industry.
Owlting Travel provides global hotel bookings and local experiences. It features a unique selection of activities run by local people, in which the team feels confident, as Wang put it.
Most online travel agencies aren't able to offer such selection because of the focus on online traffic, mostly paid. But Owlting considers customer service more important. They've met all of the customers in person to maintain a lasting relationship. This, they believe, is something that most competitors haven't invested in and therefore their advantage in the market.
From B2C to B2B, with Ethereum blockchain
With the experience in B2C e-commerce, Owlting has turned its attention to blockchain and released two services in 2017: food provenance system OwlChain and hotel management system OwlNest. Both of them are the world's first service of their category to be powered by this technology.
OwlChain allows food vendors customers to easily upload information with regards to the provenance of food products for the customer to check by simply scanning a QR code. Wang believes the root cause of most food crises is the lack of transparency in ingredients and their sources, and blockchain can provide effective solutions with its unalterable data entries.
While a large group of participants are Taiwanese food suppliers like Choice Pig, Nice Garden, and Upwelling Ocean, OwlChain opens its API to vendors around the world and seeks to provide solutions for other sectors, including fine ingredients import, export and logistics service. The goal is to build an open supply chain provenance system that casts light on each segment in the production process and enables consumers to make informed decisions for food.
With a booking engine and property management system, OwlNest allow hotels to manage their bookings with little cost and better secure the personal data of customers. They can also design customized pricing packages and create effective marketing strategies based on customer behavior and feedback.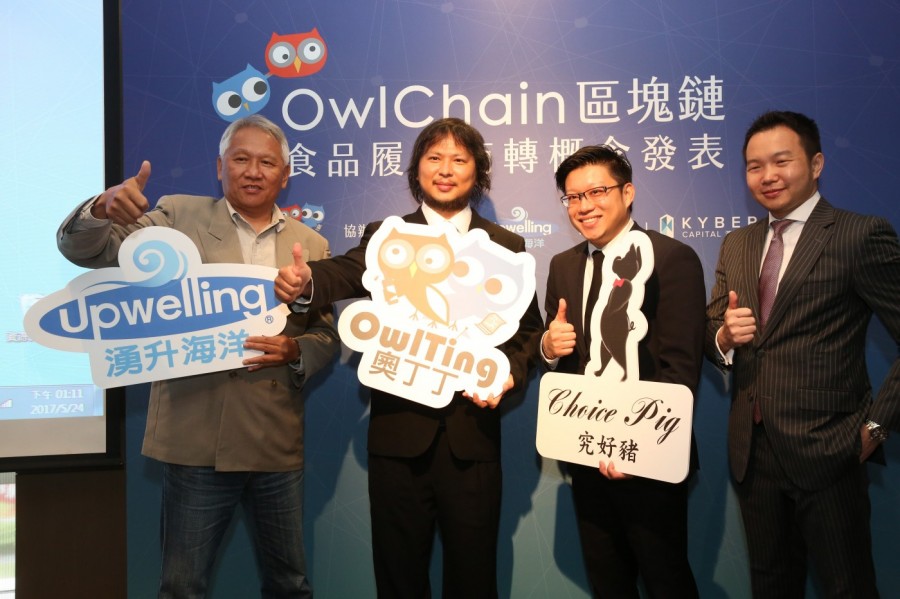 This year, consolidating OwlChain, OwlNest, and the new blockchain anti-counterfeiting system OwlCheck, the company has launched OwlTing Blockchain Services (OBS) to provide commercial solutions for automobiles, biotech, smart agriculture, food industries, and etc. Its partners have included Strike Industries, Sofiva Genomics, RD&D Cold Logistics, and the Council of Agriculture of Taiwan.
"Blockchain is the fundamental structure in the future internet, and OwlTing is working hard to change the world in the next decade. We hope to build customized blockchain applications and services for every industry to explore the infinite possibilities of blockchain technology," Wang said on the launch, according to PR Newswire.
The debut of this platform unveils the infinite possibilities of blockchain applications across various industries.
Owlting has also been looking for partners overseas to go global. In August, tt had announced a new strategic partnership with UAE SEED Group with the goal to turn Dubai into a blockchain-powered city by 2021.
Read more: Owlting Partners with Dubai's SEED Group to Build the World's First Blockchain City
"OwlTing is an important strategic investment in our investment portfolio," Thomas Hu, founder and CEO of Kyber Capital, said, and it has "demonstrated the strength and potential of Taiwan in the field of blockchain."
Meanwhile, Owlting has always been nothing but an Internet tech company, Wang believes. "We apply the latest technologies in different fields and no matter how the environment and market change, we do our utmost to turn new technologies into applications that everyone is able to utilize."