In June, Taiwanese startup Cubo AI launched its campaign on the American crowdfunding website Indiegogo and raised NT$10 million ($321 thousand) in 15 hours, making it the fastest Taiwanese team ever to hit the funding goal overseas.
It was when Andy Yang, the new CEO of the site, made his debut in local media. Appreciated for his support, including highlighting the project on the main page of the site to maximize its exposure, he gave credit to the team for its innovative idea and ability to turn it into action.
I learned entrepreneurship first-hand and how hard people have to work, so being able to help entrepreneurs is really attractive to me.
Andy Yang, CEO, Indiegogo
Earlier in May, he had just left Reddit's product team to take office at Indiegogo. When asked why he decided to take the position, he referred to his Taiwanese father, who ran a small motel business.
"I learned entrepreneurship first-hand and how hard people have to work, so being able to help entrepreneurs is really attractive to me," he explained.
Two-pronged strategy to rebuild trust on crowdfunding sites
Five to six years ago, crowdfunding was all the rage. However, as trending products were springing up, a crisis has started to loom on the horizon.
For example, Mousr was meant to sell its interactive robotic cat in a year after hitting the funding goal on Kickstarter, but the production was postponed for four years due to the startup's lack of manufacturing-specific experience.
There are countless cases like this on all the crowdfunding platforms: some people back a product but later find out they will receive it in years or, even worse, will not receive it at all.
Feeling disappointed and deceived, these individual funders is likely to mistrust the entire crowdfunding industry and cease to finance any projects in the future.
This year, Indiegogo offers a solution to rebuild their trust: Guarantee Delivery program. If campaign launchers participate in this program, they will receive the fund only if they deliver their products on time; if not, backers may request a refund.
"It's specifically for more seasoned entrepreneurs or larger companies that don't need the money from the crowdfunding campaign to fulfill their product," Yang said.
It seems to go against the idea of crowdfunding, but it actually maximizes the number of backers. Those who don't want to take any risk can opt for campaigns in this program.
Meanwhile, Indiegogo tries to "set the context" for backers to understand they aren't buying products but backing campaigns. Crowdfunding involves risk-taking.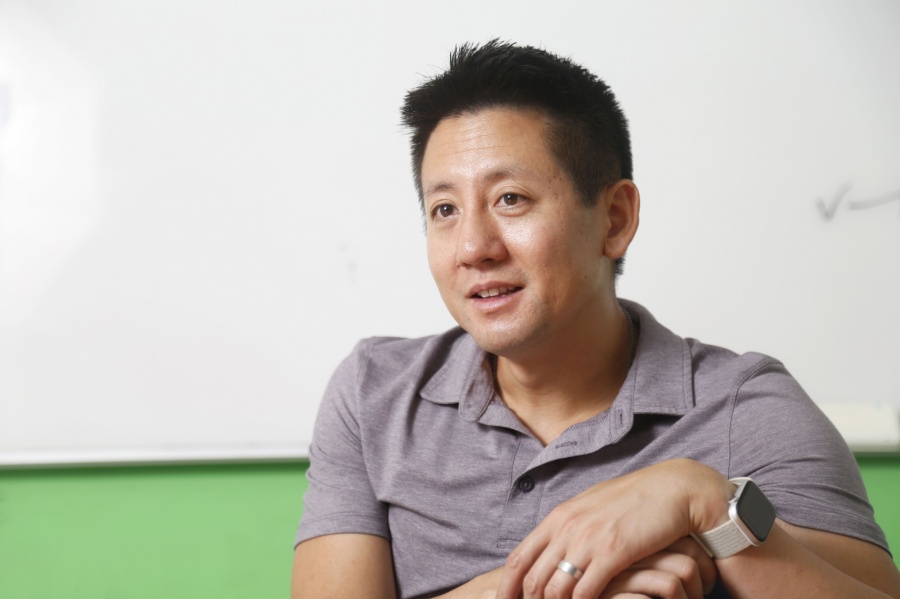 Speaking of big companies' recent entry into crowdfunding platforms, Yang said it offers them an interesting way to test the products and skip a long process of market research.
Small campaign launchers will also have the opportunity to pace themselves with larger companies and grow stronger.
But after allowing corporates to join this ecosystem, wouldn't it be more difficult for small campaign launchers to bring their ideas to life? He believes their products are born out of passion and they will find a way to persuade people to back their projects; however, to protect their rights and interests, Indiegogo needs to diversify its character.
Towards a fully-fledged crowdfunding community for entrepreneurs and backers
For small campaign launchers, Indiegogo aims to offer an "ecosystem of partners that entrepreneurs can engage with to increase their likelihood to fulfill their products," Yang said. Focusing on tech innovations, it has partnered with manufacturers like Arrow Electronics and third-party logistics providers like IngramMicro.
At the same time, it's seeking opportunities to cooperate with financial institutions to diversify the funding sources of the campaigns and balance out the risks for the entrepreneurs.
Ultimately, Yang hopes to build a community for entrepreneurs and backers.
Now, most backers enter Indiegogo through a specific campaign and never return after its completion. He believes it's crucial to ensure they feel themselves a part of the community, identity with it, and thus willing to stay in it.
With Indiegogo's mission to "unite the world through ideas" in mind, he also envisions the platform to be a information hub for entrepreneurs to exchange ideas, receive feedback from backers, and so on.
How Andy Yang sees the crowdfunding market in Taiwan
When asked about his view on the potential of Taiwanese market, Yang first shared his insights into Taiwan's "entrepreneurial culture" represented by his parents.
He observed that startups here are willing to take risks and hit above their weight. "I feel that they want to have greater impact on a number of things," he added.
Besides this soft power, the market's potential is based on Taiwan's strong manufacturing sector. With local OEMs' help, it's easier for projects to fulfill their products and begin mass production.
He also shows great interest in the recent developments in Taiwan's crowdfunding ecosystem, where the highest funding goal last year is hit by a political campaign (teamKP) that raised NT$41 million ($1.3 million) for the current mayor of Taipei.
With Yang's administration, we can probably expect to see more and more projects from Taiwan on Indiegogo presenting their innovative ideas to the world.