The Netherlands Office in Taiwan held a media pitch competition for 12 startups from the Netherlands and Taiwan at InnoVEX Taipei on May 29th.. Each start-up pitched for 2 minutes, and the grand prizes went to Incooling from the Netherlands and Orderly from New Taipei City. They've won return tickets to the opposite side with tailored-made bootcamp programs.
The jury consisted of the Mayor of Eindhoven, John Jorritsma, the Deputy Mayor of New Taipei City, Chewn-Jing Chen, partner of Infinity Ventures, Joseph Huang, and Yvonne Chen, founder and partner of Ceres Capital, and media from Taiwan, Japan and South Korea.
Mr. Guy Wittich, the Representative of the Netherlands Trade and Investment Office, said in his opening remarks that the Netherlands remained the biggest foreign direct investor (FDI) in 2018 with more than USD 30 billion, around 30% of the entire FDI in Taiwan. Much of it happened in high-tech and electronic manufacturing, showing that the Netherlands values the manufacturing capacity and technique of Taiwan.
Jorritsma said that Taiwan's similar culture, modern way of trading and good protection of intellectual property makes it an ideal partner for the Netherlands and an attractive country for trade and led him to lead another delegation back to Taiwan again. More than 200 companies established their European headquarters in the Netherlands, and about 20% of them landed in Eindhoven. He hoped that during this visit to Taiwan, Dutch startups could find good partners in Taiwan for solutions to future challenges and for exploring each others' market.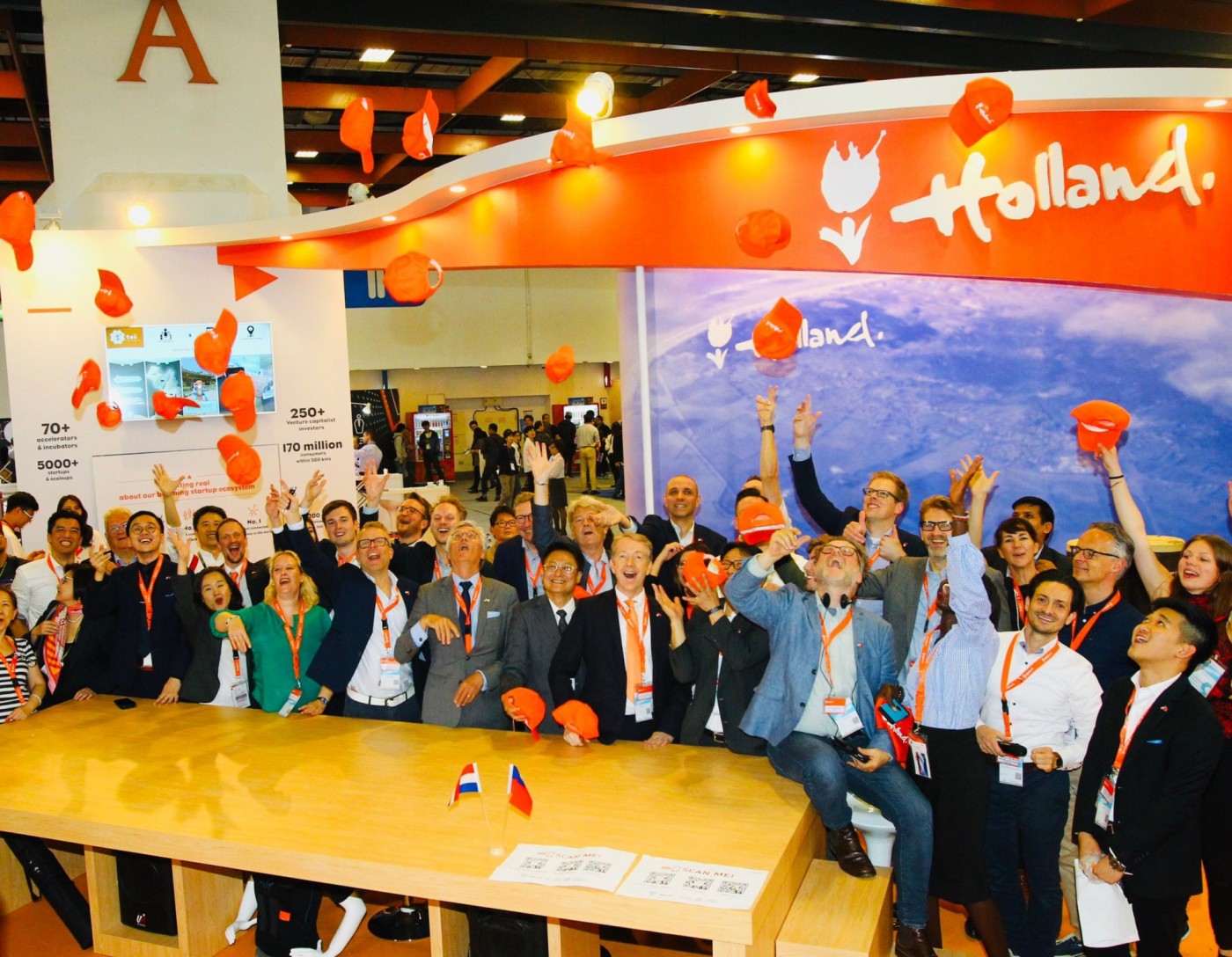 Chewn-jing Chen said that the Holland Startup Lounge is the biggest national pavilion, and New Taipei City led startup companies to join their event because he believed that the mutual exchanges would create more sparks. He said that New Taipei City wished to establish more connections with startup ecosystems and technology centres in the world, and he also invited Dutch startups to visit New Taipei City for inspiration.
Each startup pitched for 2 minutes, and they were judged in four aspects, including proposal presentation, problem statement, solution, and market potential. Joseph Huang of Infinity Ventures said that it's "incredible to see so many Taiwanese and Dutch startups with such great energy," and it was "difficult to find a real winner." Yvonne Chen from Ceres Capital said the Dutch teams are very creative, while the teams from New Taipei City are closer to the industry. "Both were great, and I gave them high scores," said Chen.
The winning Dutch team, Incooling, boosts high performance chips by using a high pressure 2-phase cooling loop, helping server manufacturers manage heat loads by creating an extremely fast, stable and energy efficient system. The winning team from New Taipei City, Orderly, is a cross channel data integration SaaS for e-commerce brands.