On April 18th, 2019, Taiwan Startup Stadium kicked off its 4th annual Term Sheet Bootcamp in Taipei, Taiwan. Compared to previous years, we saw an increase of 50% in the number of female investors, founders & experts on board, in a bid to encourage more women entrepreneurs and influencers to take part and excel in the tech and startup scene.
Let's take a closer look at some of these fireside chats and what these brilliant female speakers wanted to share with the participants.
What VC firms, Corporates, and Accelerators want from Startups
In this fireside chat, TSS invited Angela Toy (Golden Gate Ventures), Jackey Wang (500 Startups), and Rosalind Tan (Expara Ventures) to share their experiences from VC's perspectives, moderated by Brian Chen (Taiwan Startup Stadium). The speakers began the session with their views on the current Southeast Asia (SEA) market.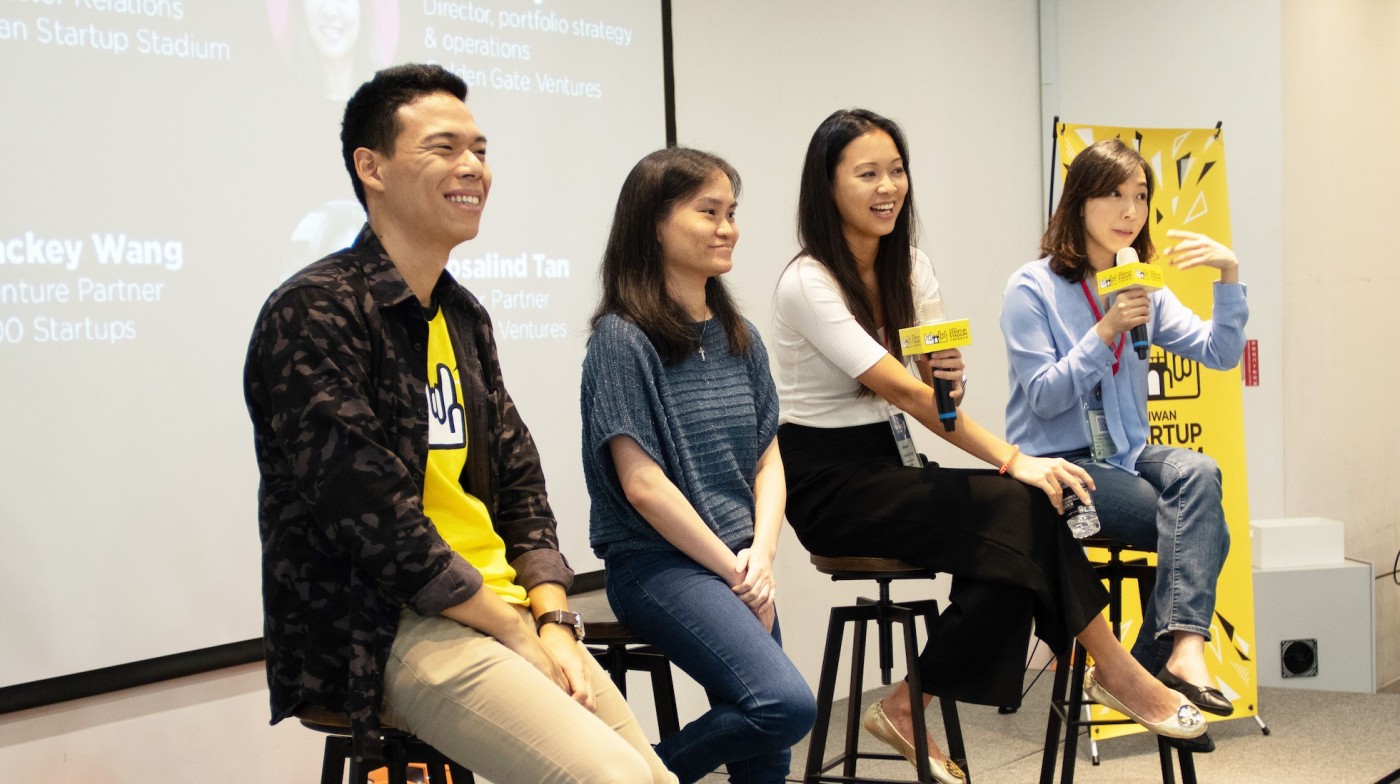 SEA is growing very rapidly, what trends do you observe?
Jackey: There are currently 9-10 unicorns in Southeast Asia. E-commerce and platform services are on the run.
Rosalind: E-commerce is still dominating. In Vietnam and Thailand, AI and IOT are growing, so as social apps and social commerce.
Angela: E-commerce is basically the strongest, AI and deep tech are also trends but not that popular yet.
How should startups prepare before deciding on which market they should go?
Jackey: Singapore, Malaysia, Indonesia are bind together. Localization is very important so be sure to do background checks on languages, laws, cultures, etc. Singapore is often used to set up companies for landings in Malaysia and Indonesia. Other countries like Thailand and Vietnam are more important for you to get local partners due to language barriers. For example, look at the stories behind Uber versus Grab. It's important for you to understand the local people.
Angela: Depending on your business model. B2B probably is not the best choice in SEA. B2B might start out in Singapore while their customers' base are in Canada or the United States. If you're a platform selling consumer products, Indonesia would be a good choice. However, as Jackey mentioned, the barriers and languages are problems that need to be solved.
Rosalind: It is essential to know if there are any local competitors in the country. If there are, they will have a lot more extra advantages compared to you. Always do background checks on emerging market. In terms of platform to sell consumer products, Malaysia would also be a good country to look into.
What key considerations do you see in startups?
Angela: I value the experiences of the founder and I like to see growing tractions. In that way we can execute the business and the vision together with the startup.
Rosalind: For pre-seed deals, founder is the key. It is important that they understand the business itself and the market. Is the market size big, is the problem severe?
Jackey: Do not focus more on the problem, but more on what you've done. Tell me why you? Why now? Why this topic?
How do you evaluate first time entrepreneurs?
Angela: For the first time founders that don't have any tractions, I want you to demonstrate if you have tested this out, and why isn't it working. Show me how you pivot and tackle the problem.
Rosalind: I want first time entrepreneurs to tell me how they've conducted DD, to provide me with their feedback after DD and also their future reactions. It might be a minus If it's difficult for me to communicate or collaborate with them. We talk to the co-founders, the managers, and interns to observe how you treat your teams. To startup, most important is always about building a solid team first.
How do startups know if it's the right investor?
Jackey: Do some market research about the VC's portfolio, you should know during the DD process if it's the right investor.
Angela: Do reference checks with founders in the VC's portfolio. Get to know what connections the VC can provide. Make sure you are clear of their objectives.
Rosalind: Corporate VCs provide very favourable valuation, however be aware of the terms.
How do you know if a market research on a Southeast Asia country is valid?
Rosalind: There is no valid market analysis for startups. VCs will always do their own research at the same time.
Jackey: Another point to consider is that there are a lot of great deep-tech companies in Taiwan, but is the target market ready?
What are some challenges you observe of Taiwanese companies going global?
Jackey: Taiwan startups generally have humble and shy characteristics, so I observe a lack of courage and confidence. it is important for them to learn about how to tell a good story.
Key takeaway for you all is that investor and founder is a relationship you cannot divorce. Definitely tell them the story of your team. Why your team. Why you. Why now.
Angela: Key takeaway on traveling: when you travel you will speak to a lot of people, you will realize a lot of founders faced with the same challenges. If you want to explore the Southeast Asian market, travel more. Learn from people's mistakes and success, then apply them to your business.
Rosalind: Key takeaway for you is that Taiwan really have potential in terms of technology. You only have a couple of minutes to pitch to investors in every situation, so find the confidence!
Brain: Also remember to talk to your users and get their stories. VCs love hearing stories. Learning to pitching in English is also important.
About Term Sheet Bootcamp
Term Sheet Bootcamp is a 2/3-day fundraising bootcamp designed for early-stage startups. With comprehensive contents, solid and practical training, as well as high-profile international & regional speakers, we aim to build stronger connections among players in the local startup ecosystem, to bridge investors and startups, as well as to educate startups on term sheets and negotiations across the APAC region.