Taiwanese designer Apu Jan debuted his womenswear label APUJAN at London Fashion Week in 2013.
Since then, he's garnered global media attention and was one of ten designers shortlisted in the Vogue Italy New Talent Contest.
Jan is renowned for integrating patterns and other knitwear techniques to illustrate themes from fantasy and literature. He says books have been his inspiration ever since his childhood.
"I would like to express something with my creations," Jan says. "APUJAN clothes are just like telling a story."
"The core message from APUJAN is to imagine an unknown future (or) sci fi."
Jan's journey as fashion designer: from London to the world
The 32-year-old Taipei native specialized in knitwear textiles relating to womenswear at Fu Jen Catholic University. After graduation, he went on to hone his skills by obtaining a master's degree at London's Royal College of Art. He then established his brand APUJAN in the British capital six years ago.
Each of Jan's runway themes expresses a different story, he says.
In February 2013, Jan first revealed his new clothing line at London Fashion Week for autumn and winter in a show called "Petroleum," where models on the catwalk appeared to be traveling through time and space when they appeared on the runway.
And the latest APUJAN collection is called " Those Vanishing Strange Creatures" and has a theme of raising awareness in the public about animals facing extinction.
The leopard cat, found in parts of Asia including Taiwan, can be seen on invitations to Jan's show and on his latest designs. The animal is an endangered species: some studies have estimated there are less than 300 left in Jan's hometown.
"These different (runway) themes have their own meanings and core messages from us," Jan says.
Jan's talent and originality has led to cooperative deals outside the catwalk. Since last year, Jan has been designing pajamas for Eva Air. He's also created dancers' dresses for Cloud Gate, one of Asia's leading contemporary dance theaters.
Jan told Business Next APUJAN has plans for more cooperation with different industries and brands in the upcoming year.
Taking a fashion line to global markets
While Jan may have established and registered APUJAN in London, his main target is the global fashion market.
His APUJAN collection can be found at his online shop and in many major cities. He has founded concept stores in Shin Kong Place department stores in Suzhou and Chongqing. Some of his collections are also sold in stores in Taipei and London.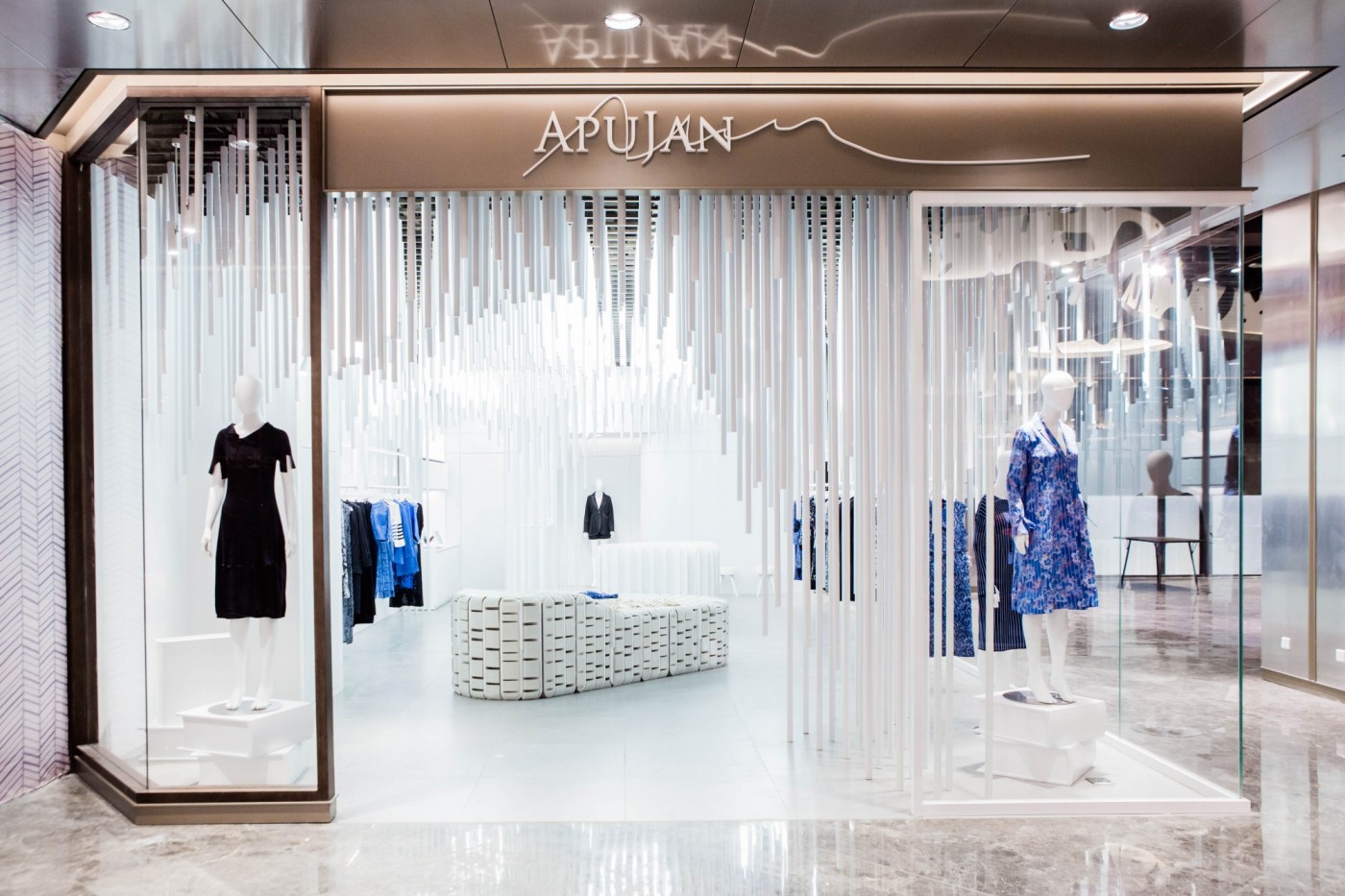 Jan is not merely a fashion designer but also a brand creator. He needs to be able to efficiently run a business and maintain his brand's good reputation.
"The cool thing about having different crossover cooperation (projects) is meeting with individuals from different fields, which can spark more possibilities.
"However, I need to balance time management: running a business and designing for my next collection," Jan says.
Recalling his memories as a young entrepreneur, Jan encourages aspiring founders to have a brave heart and work to realize their dreams.
" It's a tough road towards entrepreneurship for there are various unexpected situations but at the same time, I feel blessed to have different people cooperating with APUJAN and inspiring us every single day," Jan concludes.