A Taiwanese self-driving shuttle bus developer with technology that has helped transport tens of thousands of passengers partners with Easymile to introduce the self-driving bus, EZ10 in Taiwan. Now it's getting help from an international investment bank along with the Taiwan government to advance low-polluting vehicles in its homeland.
These laurels all belong to Taipei-based autonomous bus technology developer 7starlake.
A self-driving shuttle bus can navigate entirely without a human driver by detecting its surroundings by radar, GPS, odometry, and computer vision. Sensory systems known as "eyes" let driverless buses pick routes, identify road obstacles and read signage.
The first autonomous bus in Taiwan is the EZ10. It's the product of a partnership between 7starlake and Easymile, a French company specialised in autonomous vehicle technology. Last year, the two firms introduced the EZ10 autonomous car, which was assembled in France. 7starlake provided core technology and distributed the bus locally.
7starlake did field testing for the bus at the sprawling Taipei campus of National Taiwan University.
Part of Taiwan's green energy ambitions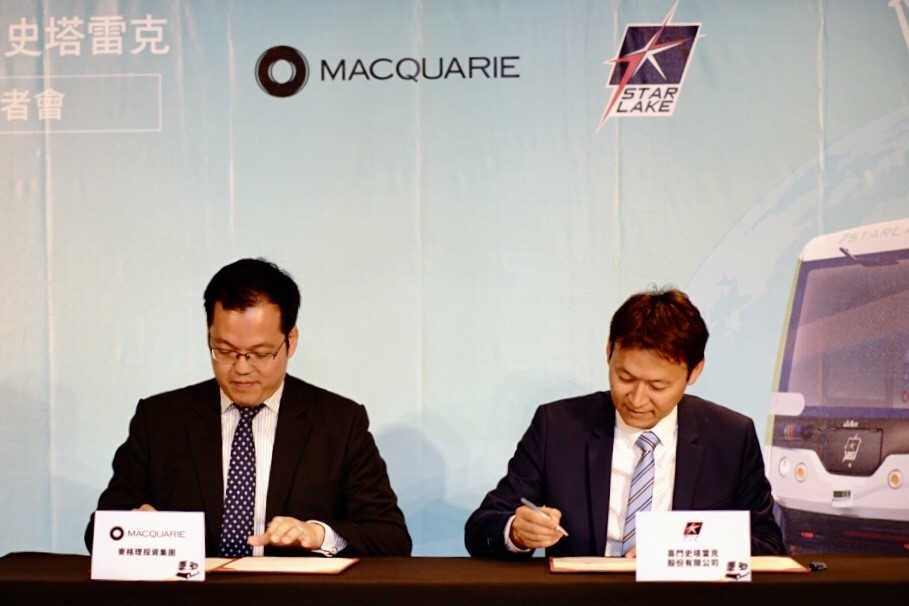 Macquarie Capital, an Australian financial services group, and 7starlake signed a memorandum of understanding May 3 to combine self-driving vehicles with green energy in Taiwan. Macquarie Capital's local head Ryan Chua said the firm was "please to partner with a local company in supporting the renewable energy development in Taiwan."
Macquarie and Taiwan government see autonomous vehicles as an entry point to green vehicle technology.
"We plan to use green energy as an engine to promote industrial upgrading and re-create the peak of Taiwan's industry, then develop a better green smart technology industry," Kung Min-hsin,Deputy Minister of Economic Affairs, said at the signing event.
"Macquarie Capital's cooperation with 7starlake is not only critical for promoting the cooperative development of green energy's smart industry, but also for major domestic investment projects, and for domestic green and shared public transport promotion," Kung said.
Martin Ting, general manager of 7starlake, had noticed the Taiwan government's efforts to cut pollution, for example by encouraging the development of offshore wind power.
His firm will discuss with Macquarie Capital how to their can help the central government "realize the prospective green energy blueprint in Taiwan," he said.
Their work may eventually put self-driving technology and a decentralized energy grid into motion, he said.