As part of the Visiting Entrepreneur program at Taipei Startup Stadium (TSS), members were invited recently to a special lecture from Pawoot Pongvitayapanu about opportunities to expand their businesses into Thailand and other Southeast Asian countries.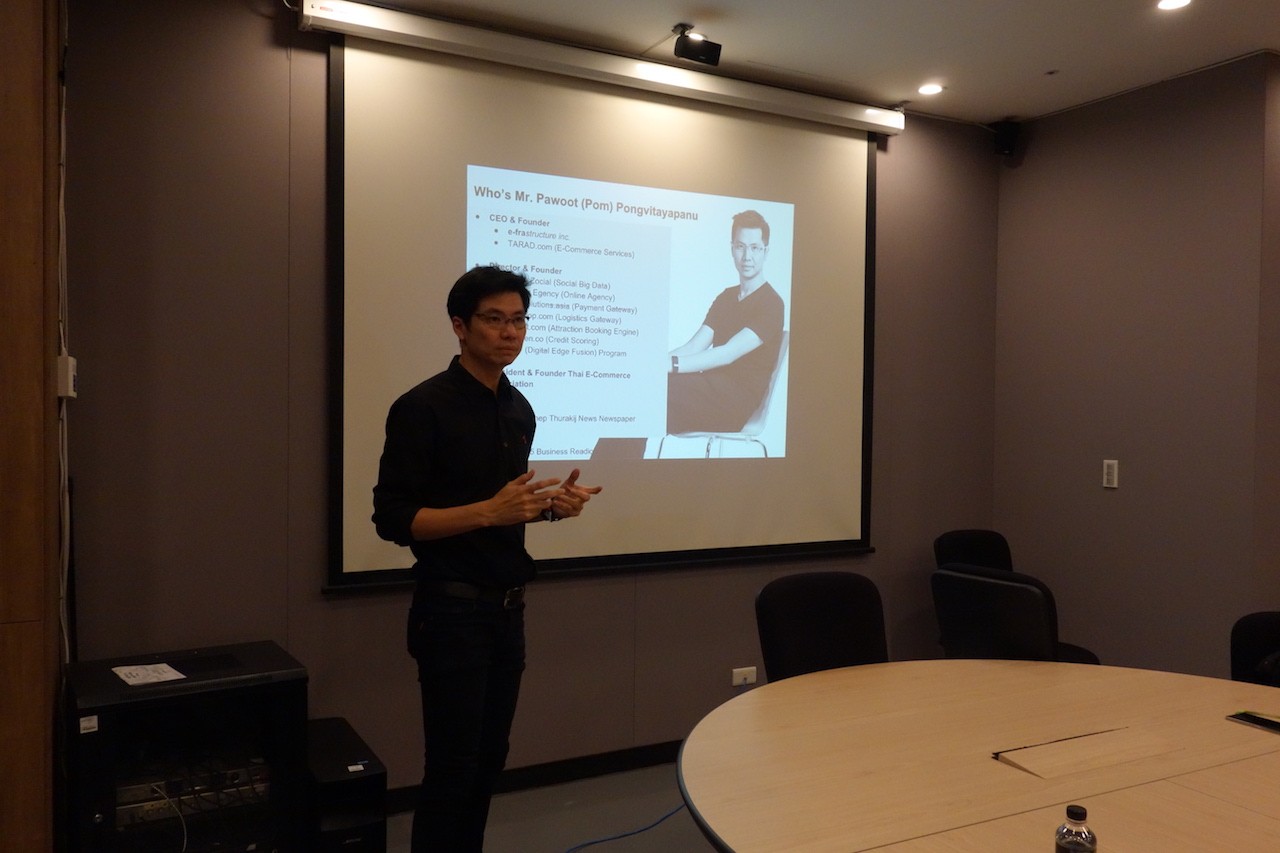 Pawoot, who usually goes by his moniker Pom, emerged as an internet star way back in 1999 when he started thaisecondhand.com, a local variant of e-bay. Later, after receiving investment from Japanese firm Rakuten, he became a pioneering leader in Thailand's startup scene with his very own conception of e-commerce, something he has coined 'efrastructure'.
Known as the father of e-commerce in Thailand, Pom is the most recent guest in a string of highly acclaimed speakers as part of TSS's Visiting Entrepreneur program. These events allow Taiwanese startups to learn from industry leaders and make contact with potential investors. At the same time, they also allow the guests to see what Taiwanese startups have to offer.
Thailand: ripe with potential
Pom has deep roots in Thailand's startup scene. Not only is he the CEO and founder of Tarad.com, but he also founded several other companies that are now at the heart of the Southeast Asian country's digital industry. Furthermore, he serves as the chair of the Thai e-commerce association, an institution he helped co-found.
As Pom explains, each of his companies serves a function in Thailand's efrastructure. A few examples are Thoth, Winer, Paysolutions: Asia, Shipop.com, or Tixget.com, all of which are integrated and interlinked in a very subtle, yet effective manner.
The creation of his first online marketplace soon helped Pom realize that it was in need of an infrastructure that did not exist in Thailand then, leaving him with no choice but to create those other companies himself. He argues that e-commerce needs an end-to-end solution that includes knowledge of both customers and sellers, a marketplace for them to find each other, marketing and advertising, as well as payments and logistics.
For example, when you purchase from an online seller, you need a way to pay for the item. Thus, Paysolutions was born. To cover buyer and seller data Thoth was founded, which learns from shopping behavior to target advertising. Moreover, you need logistics and all sorts of other services, which are all handled by distinct firms. Taken together, these companies form what Pom calls 'efrastructure'.
Managing growth through partnerships
Pom spoke for nearly an hour on the current market situation in Thailand and Southeast Asia, and how all of these efrastructure companies came to be. Stressing that there are several industries that he wants to get involved in, he had to acknowledge that he simply does not have the time to do so.
However, one way of overcoming this problem is to offer stock swaps and guidance to their leadership. This allows Pom to participate and lead without having to dedicate too much of his time. Since it also helps to build teams and alliances, Pom urged his Taiwanese audience to emulate this approach.
A forward looking visionary himself, Pom said that he is willing to work with anyone and encourages people to contact him on Facebook. In fact, the outgoing entrepreneur streamed the whole event on Facebook Live and was also interacting with his massive 150,000+ Twitter following.
Opportunities for Taiwanese Startups in Southeast Asia
According to Pom, great opportunities are hidden within Southeast Asia in places that commonly have been neglected. Thailand is an obvious target with over 44 million internet users, but he also encouraged startups to think about latecomers such as Laos and Myanmar, as their populations are also increasingly enjoying access to the internet.
Pom believes that Taiwan and Thailand are very similar and in a good position for cooperation, with even their respective currencies trading at the same value. When asked about the language barrier, he said that although English was not yet the dominant language for most e-commerce, its adaption rate was certainly growing.
TSS continues blazing a path forward for Taiwanese startups
According to Charnie Chen, TSS's Startup Development & Mentorship Manager, their membership is growing rapidly, with more than 112 Taiwanese startups currently participating. Other recent events at TSS have included the Taiwan Rocks Tour, where TSS took the winning teams from the Rock the Mic competition to attend TechCrunch Disrupt in New York.
Similar to earlier events, Pawoot's talk was attended by many TSS members. Some of the teams specialize in hardware, while others focus on software solutions. Yet others showed off beauty products, and even some service providers joined in. What all of these startups had in common is that they are interested in e-commerce or anticipating a business expansion into Southeast Asia.
One of the teams present, Defiderm, wowed Pawoot with their hardware demo. Their small handheld device can check your skin quality with the simple press of a button and provide data and suggestions for skin care products.
Another TSS member in attendance was Asiayo.com. Their product is an alternative to Airbnb, but instead of renting a room out in a person's home, they are renting a hotel room from a person. They have already launched in Taiwan and Japan and plan to expand to Thailand in the near future due take advantage of the country's massive tourism industry.
Taiwanese startup VIPTjob.com also joined this lecture. They provide job placement services for clients in Vietnam, Indonesia, Philippines, and Thailand. Aware of the demand for migrant workers and the difficulties involved in securing a good job abroad, their platform seeks to benefit both workers and employers.
Pawoot ended his talk with an overview of startups being funded in Thailand, as well as international angel investors that are active there. He is very optimistic for the future. In short, he welcomes every startup to Thailand; even if you are not sure how, there are people and resources waiting to help your company.