With over 1.8 billion active users, Facebook is a true behemoth in the online business. Together with its archrival Google, the two companies rake in a cool 85% percent of all online ad revenue. Moreover, as of June 2016, the social media platform was worth a whooping $350b, more than half of Taiwan's GDP.
At the same time, the fate of Myspace continues to dangle over founder Mark Zuckerberg's head like a Damocles sword.
Although it may seem like modern history already, only eleven years ago Myspace was the most visited website in the United States, accounting for some 80% of traffic on social media sites and surpassing a young Google.
Yet following a combination of unwise business decisions, bad press, as well as Facebook's own rise, the platform sunk into digital oblivion, remembered only by nostalgic users of the Web 2.0.
Set to avoid such a fate, Facebook is eager to tie its large user base even tighter to the platform. For one, the company has launched a revamped version of its Marketplace feature, which could potentially see the social media giant add an e-commerce facet to its portfolio.
Additionally, by expanding its Live feature into game streaming and virtual reality, Facebook is intent on establishing itself as leader in the livestreaming realm. Finally, Zuckerberg is personally pursuing Facebook's re-entry into China, albeit to limited success.
Not unlike Myspace in its heyday, however, recent times have seen Facebook garnering lots of bad press, both for its business model and the unrestrained flow of information on the platform.
Although Zuckerberg seeks to improve the company's public image, his vision of a world connected amounts, for now, to little more than promotional pep talk. For national administrations in particular, Facebook is now primarily a problem, not an ally, both in regard to fake news and the evasion of taxes. In general, then, it seems that the social media platform may have the power of a digital empire, yet only little understanding of the responsibilities that come with such might.
Tackling e-commerce: Facebook Marketplace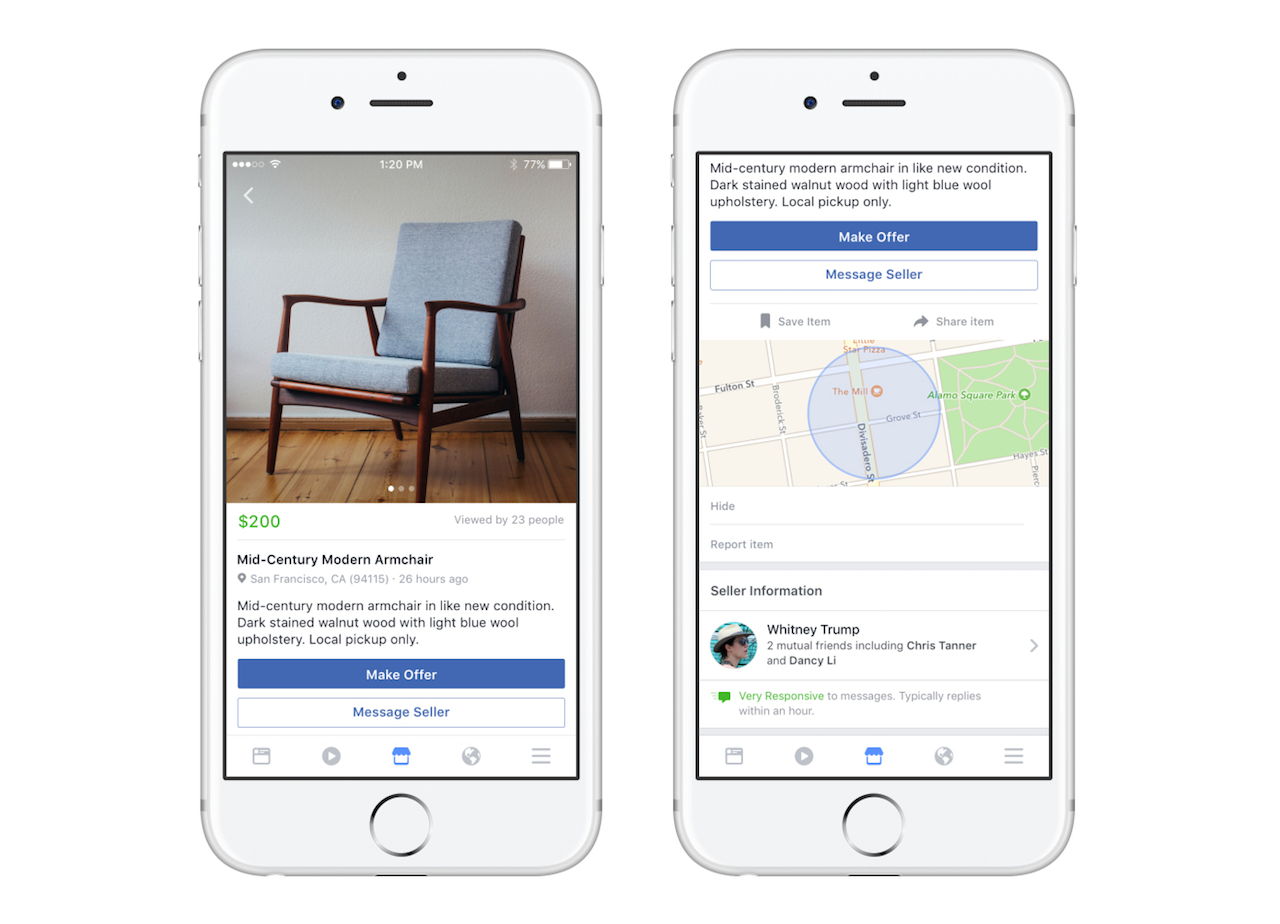 In 2016, Facebook reintroduced Marketplace to its platform. Originally launched in 2007, Facebook believes the time is finally right for this feature to shine, as customer-to- customer services have firmly established e-commerce within the economy.
The company pitches Marketplace as a friendlier Craigslist, the pioneer of the barter economy that was founded in 1995 and has remained true to its roots right down to the website's outdated design.
Although Facebook already implemented buying and selling groups on the platform in 2015, the revamped feature is designed to win customers over by virtue of transparency (users can identify sellers through their Facebook profile), convenience (everything takes place within the app), and the sheer excitement of buying things for cheap.
According to Facebook's Product Manager Bowen Pan, they hope that users can use the Marketplace like a mall, browsing and shopping even as they do not really need anything specific.
In essence, Marketplace is Facebook's next step in exploring the commercial potential of its users.
Basically, the feature is designed to help Facebook retain users within its (ad-filled) ecosphere. Once inside the Marketplace section of the main app, users will see goods available in their vicinity that Facebook's data and algorithms deem relevant. For now, of course, Marketplace is in geographic terms limited to the US, the UK, Australia, and New Zealand. Moreover, the platform currently only focuses on private sales, making it a competitor first and foremost of Ebay and Craigslist.
As it stands, Facebook does not directly gain revenue from the sales, since buyers and sellers arrange all exchanges in private à la Craigslist.
The advantage of this is that sellers on Facebook's service can offer lower prices, thereby undercutting business from competing e-commerce traders of second-hand goods.In the future, however, Marketplace could also become a channel for businesses, which hitherto remain barred from selling directly on Facebook.
Interestingly, half a year later the reception of Marketplace has been underwhelming to say the least. The platform is being criticized for its lackluster and technologically crude storefront, as well as the proliferation of fraud and illegal sales. In other words, Marketplace is not exactly on the way to overtaking Craigslist and others by virtue of excellence, but rather emulates their existing problems.
This is mitigated, however, by Facebook's biggest asset, its massive user base. With more than 1.8 billion active users, widespread adaption of Marketplace in the future could still spell doom for competitors, as 91App CEO Steven Ho points out.
In Taiwan, for instance, centralized e-commerce companies like PChome rely not only on sales, but also their links to brands and services.
As Ho, whose own company provides a mobile store solution for brands in Taiwan, sees it, Marketplace's relaunch augurs the growing clash between centralized companies and newer, decentralized e-commerce platforms.
Quantity trumping quality? Facebook Live vis-à-vis its competitors
Another segment where Facebook seeks to gain market dominance is in livestreaming, yet here, too, competitors abound.
Livestreaming, which has seen massive growth over the last few years, was initially tackled by Facebook with the introduction of its Live feature in April 2016, albeit to lackluster success.
Reacting to the need to stay relevant, this March the company introduced its newest expansion. For one, the livestreaming function now works on desktops as well, while the mobile app boasts compatibility with the Gear VR's virtual reality content.
Both moves are designed to improve Facebook Live's impact on game streaming, arguably the biggest cash cow in the market.
Livestreaming, however, remains characterized by a decentralization that goes against Facebook's attempt to unite all the things under its wings. For one, many
successful platforms are interest-focused.
Twitch, for instance, exerts a stronghold on the game streaming segment, where it leads by virtue of quality. Additionally, livestreaming platforms such as 17 from Taiwan find success regionally, catering to the cultural preferences of their audiences.
Besides quality content, part of the success these streaming platforms experience is also due to the generous revenue sharing models they have implemented.
In both these aspects, Facebook is actually trailing behind the competition. Content-wise in particular the company has come under fire, as its Live feature has been repeatedly used to broadcast violence and racially-motivated behavior, thereby mirroring criticism of its main service.
But in regard to revenue-sharing, too, Facebook seems late to the table. While 17, for instance, retains and wins over popular streamers through means such as ad-based income, gifting, as well as content-ownership, Facebook announced the gradual introduction of ad revenue sharing only this February.
To be sure, the company has already been paying celebrities and media houses for content since 2016, yet for individual users, such deals hold little attraction.
Unsurprisingly, competitors remain calm in the face of Facebook Live's recent initiative. 17 Media's Jeffrey Huang, for example, is not phased by the social media giant, as his own company is successful in its own way and only recently struck an alliance with Singaporean dating network Paktor. Simply put, for Huang Facebook is but another competitor and thus good for business.
From a longer perspective, the former rapper believes that content will be key to sustained success in livestreaming. Paktor's CEO Joseph Phua agrees, arguing that the two companies already attract different audiences: whereas 17 is more entertainment- focused, "Facebook is more about reality."
Similar to Marketplace, then, Facebook's future in livestreaming to a large extent will depend on its ability to convince current users to stay on the platform for yet another online activity. But with so many other option available, and Facebook content in particular being burdened by excessive ads and a lack of quality, one wonders what exactly would compel users to remain loyal to the platform.
Quite naturally, Facebook is eager to explore so-far untapped markets to sustain its global vision, with China in particular being a primary objective for the company.
Facebook's Dream of the Red Chamber: Zuckerberg's yearning for China
While Facebook's success is partially based on the premise that it connects people from all over the globe, there's one rather prominent absence in the platform's portfolio of nations.
To this day, Facebook's social media network is forbidden in China ever since it was deemed unacceptable by the Communist Party in 2009. Despite Zuckerberg's lobbying within and outside of China, the country of 1.2 billion remains a no-go area for the ambitious internet company.
For most Chinese netizens this is more or less a nonissue, as they rely on domestic internet powerhouse Weixin's exhaustive social media offerings. More so, many users know how to circumvent the digital wall of the state apparatus to glance at content the Communist Party views as problematic.
For Facebook and Zuckerberg, on the other hand, the sense of missing out is real. After all, for a company intent on connecting the whole planet, being kept out of the single biggest market in user numbers is a crisis ideologically and financially.
Despite all of Zuckerberg's efforts - including a ludicrous morning run in smog-ridden Beijing- Facebook has not been allowed to enter China's online market. For the near future at least, China resembles more a mission impossible than a worthwhile opportunity.
Rather than emulating Google, which managed to align its "Don't be evil" business mantra with the economic losses entailed by its flight from China into an overall publicity, Facebook seems to be eyeing Apple's success.
Not only is the Cupertino company's nonchalant CEO Tim Cook a welcome guest of the Communist Party, but Apple has also been rewarded with impressive sales, as earnings have soared well over $10b.
This success is of course partially rooted in Apple's business model; the company first and foremost sells hardware, not content.
Additionally, thanks to the hunger for luxury goods and high-end brands among China's growing urban population, there is a clear demand for Apple's products even as domestic competitors are upping their game.
Facebook, on the other hand, is neither a hardware manufacturer nor a high-end brand by any stretch of the imagination. What's more, it has long been substituted in China by Weixin, whose ubiquitous software solutions attract a wealth of users even as their operations may be supervised by the government.
If Facebook actually were to be allowed entry into China, the question remains as to how many netizens would actually feel compelled to make the switch.
To be sure, Facebook has managed to get at least one foot in the door, even if that in reality merely posits the company as channel for internationally expanding Chinese corporations.
In essence, cooperation with Facebook allows companies that are going global to share not only in expertise on Western markets and a well-known brand image, but also in more than a billion active users and the adequate promotional channels to communicate with this audience.
However, compared to the actual goals of Facebook, these successes are mere drops in the bucket. Most directly, their insignificance is manifested by the fact that the company to this day has not opened a single office in China.
A social media empire, or anarchy of information?
In regard to Facebook's main business, the company of course still resembles Google more than Apple; both companies make money by offering free online services and in turn collect and sell data gathered from their users. The potential of Facebook's social media empire on public opinion in particular is thus often cited as one reason for the persisting ban in the People's Republic.
Yet as recent events have shown, the Communist government is no longer alone in its apprehension towards autonomous social media platforms.
As much as Facebook's services remain popular, the company's public image has long been taking hits. For one, the fact remains that Facebook's monetization has deeply invaded almost all aspects of the social media platform, thereby alienating users and sparking ever-growing concerns over lacking privacy.
Additionally, in its drive to connect the planet, the website has become increasingly inaccessible to non-users, who are reminded to sign up almost immediately when browsing local businesses.
Despite Zuckerberg's dabbling in political philosophy and his attempts to redefine Facebook's ethos in more idealistic terms, the social media platform has long been a haven for demagogues, both hobbyists and professionals.
This is mostly due to its lax content policies, which in essence amount to an anarchy of information. To be sure, freedom of expression is part of Facebook's main appeal and its legitimization of the more unwanted aspects plaguing the platform. Moreover, a great chunk of Facebook's content still consists of harmless questionnaires and silly status updates, although this, too, warrants concern over the direction in which mass culture is headed.
However, the recent election in the US, or issues such as the European Union's so- called refugee crisis, all of which were arguably influenced heavily by opinions spread via Facebook, have elucidated the platform's attraction for agitators and its lack of solutions against fake news.
In fact, Facebook has emerged as the main channel for the distribution of questionable news content, as an astonishing number of users shares posts simply based on lurid headlines.
What's more, the company's use of algorithms to tailor content is exacerbating the "filter bubble" phenomenon, which sees users increasingly caught in a feedback loop of recurring opinions and sources.
Zuckerberg's recently released manifesto admits these faults, yet it is questionable if his goal of making Facebook a "social infrastructure for community" can truly engage them. Moreover, as The Atlantic's Adrienne Lafrance points out, having already undermined their ad revenue streams, Zuckerberg's vision for Facebook essentially exacerbates the already dire situation of traditional print media, as the platform is set to compete with their main business now.
Facebook's future as a global community envisions its users not only as content sharers, but also creators and editors, all of which used to be jobs with a salary and benefits. As Lafrance scathingly puts it, the company is basically "asking its users to act as unpaid publishers and curators of content [...] and now also to act as unpaid
editors,volunteering to teach Facebook's algorithmic editors how and when to surface the content Facebook does not pay for."
The View from Taiwan: universal adaption, no taxation
This brings us back to Taiwan, home to Facebook's most loyal users. Out of a nation of 23 million, an impressive 73% are said to use its services daily. The app is thus responsible for a large chunk of the three and a half hours average users on the island supposedly spent on their smartphone. Consequently, Taiwanese companies, too, eagerly use the platform's ad services to promote their businesses.
However, as is the case in other countries, Facebook's earnings are rarely taxed in Taiwan. For instance, the income generated from ads by users are not subject to local taxation. Additionally, even the companies that book advertisement space tend to fulfill their transactions via credit card. Similar to the Uber case, the Taiwanese government has no means of supervising and taxing these exchanges unless they are reported, which most are not.
It is undeniable that the popularity of the platform is helping Taiwanese businesses to reach potential customers.
In direct terms, however, Facebook does not contribute to the nation's GDP thanks to the various ways in which it shuns fiscal responsibility. To make matters worse - yet in line with its behavior elsewhere - the company has even applied for tax reduction in Taiwan.
At the same time, it is worth remembering that none of these issues are illegal unless prosecuted. Facebook acts through the same channels that domestic companies also employ to lessen the burden of taxation. What is necessary, then, is the development of a legal framework that makes e-commerce and other internet companies from Taiwan and abroad accountable.
To be sure, some, such as the preceding administration's Minister without Portfolio Jaclyn Tsai, are calling for quasi-protectionist policies that require advertisements in the public sector to be handled by domestic firms exclusively.
However, such calls are not only populist in nature, but also anachronistic in so far as they neglect the fact that Taiwan itself is still very much an export-focused nation. Talk about taking two steps backwards.
A solution, or part of the problem?
For now, Facebook should stay relevant by virtue of the sheer convenience the platform offers to its users, irrespective of the success of either Marketplace or its livestreaming feature.
After all, it is hard to give up an elemental aspect of one's social life, even if that consists mostly of glancing at headlines and collecting virtual friends.
However, this does not rule out the possibility that problems such as bad design, excessive ads, or privacy concerns could have a cascading impact and inspire a growing number of users to look for other means of staying connected in the future.
For Zuckerberg, Facebook and its vision of a global community is another great leap for mankind, right in line with historical developments from tribes to cities to nations.
Even if we choose to be swayed by this image, one has to admit that for now, Facebook remains another big challenge which needs to be reined in, from the intellectual, the legal, as well as the economic perspective.
Be it Marketplace or Live, Facebook's recent steps show that the majority of its actions are firmly embedded in economic, not ethical or intellectual rationales. As such, they may help the company to avoid the fate of Myspace.
At the same time, however, it is worth remembering that for all the lip service to ideals, Zuckerberg's digital empire remains primarily a corporation,albeit a dangerously powerful one.